John T. Gorman Fellows adapt and innovate to continue making progress toward their long-term goals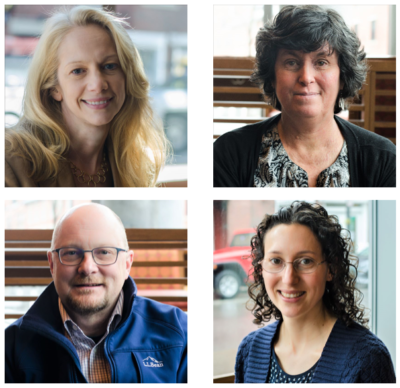 John T. Gorman Fellows have all set ambitious goals for improving the lives of Maine people – targets that take years to achieve, even under the best of circumstances.
The crisis of the coronavirus – both from a public health and human services perspectives – has upended plans, created new challenges and triggered multiple emergencies for these leaders. To their credit, Fellows have not abandoned their long-term goals. But they are adapting their strategies, prioritizing emerging needs, and looking for ways to continue making forward progress despite the pandemic.
We caught up with four Fellows to find out how — Maine Association for the Education of Young Children Executive Director Tara Williams, National Alliance on Mental Illness Maine Executive Director Jenna Mehnert, Somerset Career and Technical Center Director David Dorr, and New Ventures Maine Regional Manager Janet Smith.
First >> Tara Williams: Protecting a Fragile Childcare System Now in Crisis