Resource Library
COVID-19 Update: The John T. Gorman Foundation is curating a list of resources, emerging best practices, and innovative ideas from across the country to help local organizations serve vulnerable Mainers during the coronavirus outbreak. To access those resources, visit www.jtgfoundation.org/resources/covid-19 or enter Covid-19 in the keyword search. Those results can be further focused by using the "Filter by" menu above to filter by population type (Young Children, Older Youth, Families, and Seniors) or by clicking the following links: childcare, education, food security, housing, rural areas, and workforce.
The John T. Gorman Foundation strives to be data-driven and results based and seeks to promote information and ideas that advance greater understanding of issues related to our mission and priorities. In our effort to promote these values, we offer these research and best practice resources collected from reputable sources across the country. The library also includes briefs and reports the Foundation has commissioned or supported, a listing of which can be found here.
---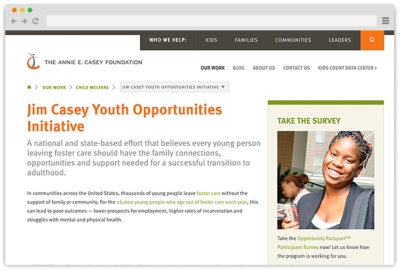 Jim Casey Youth Opportunities Initiative
March 13, 2015 – Older Youth
The mission of the Jim Casey Youth Opportunities Initiative is to ensure that young people—primarily those between ages 14 and 25—make successful transitions from foster care to adulthood.