Mobilize Katahdin launched last spring to offer transportation to those in need, but has pivoted to deliver many other services during the pandemic  
When Millinocket-based initiative Mobilize Katahdin launched in the spring of 2020, its name perfectly matched its mission of building a much-needed community transportation network in this rural part of Maine. But as it got off the ground, the COVID pandemic hit, making it clear that it would need to "mobilize" in a much different way – to get food, fuel and other necessities to low-income residents, including seniors who were isolated at home because of health risks.
Nearly a year into the pandemic, they continue to do so, while trying to make headway on their  intended goals as well.
As part of its ongoing commitment to Maine seniors, the John T. Gorman Foundation in 2020 allocated $450,000 to groups helping Maine seniors age in place with supports like home repair, food assistance, companionship, legal services, and transportation. As part of this, the Foundation provided funding to Mobilize Katahdin and six other organizations to provide vital transportation services across the state.
Planning for Mobilize Katahdin began in 2019 from the work of Thrive Penobscot – a community partnership to assist seniors – that had identified transportation as an area of special need.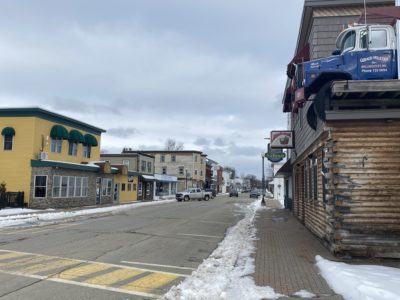 The Millinocket Memorial Library stepped up to head the initiative. Library Director Matt DeLaney said Millinocket's status as a town in transition creates special challenges for seniors in particular. Today, over one-third of the town's population is age 65 and older, increasing from just 25% in 2010, according to Census data. (Statewide, the figure is 21%.)
With two area paper mills now closed, many people have left the community to find work. As a result, DeLaney said seniors who can't drive have lost access to many of the friends-and-family networks they could once depend on to get to doctor's appointments and stores. The town's diminishing size also means a loss of certain services – the municipal library itself closed in 2015 before being reopened by volunteers as an independent nonprofit in 2016. Once its own service hub, Millinocket now depends on outside providers for many services, including transportation.
While many efforts are underway to revitalize the area's economy, DeLaney says the library sees itself as a bridge to the community's next chapter. In Mobilize Katahdin, it saw a chance to help the most vulnerable community members through this difficult period of transition. So after months of planning, the initiative prepared to launch last spring, collecting and sharing information about existing transportation resources, hiring a staff person to help people navigate those services, and recruiting volunteers for a network of volunteer drivers.
Then the COVID crisis hit, making it much more difficult to safely provide rides to the public, while shuttering seniors in their homes and causing many more people to need assistance.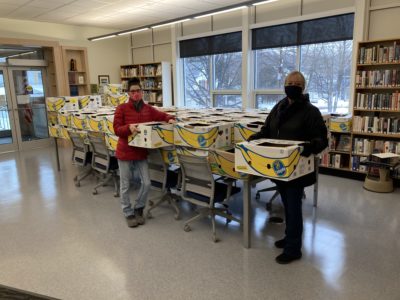 "We decided to take what we had built and put it to good use," DeLaney said, steering the funding and volunteers it had gathered for transportation toward other vital needs. Since March of 2020, Mobilize Katahdin has served approximately 1,500 individuals with delivery of food, medicine, fuel or other necessities. It distributed over 5,000 masks and 50 hand-sanitizing units around town. Importantly, it has also convened a coalition of 30 organizations that met regularly over Zoom to discuss emerging needs and collaborate on solutions.
"All of our Senior Direct Services Grantees have dealt with the incredible challenges of serving clients who are both at high risk and in great need during this pandemic," said Foundation Program Associate Lauralee Raymond, who manages the Direct Services Grant Program. "Even amid the challenges that come with starting a new initiative, Mobilize Katahdin has done a great job adapting and steering efforts where they're most needed right now."
Though the pandemic has created new needs while delaying much of its original plans, Mobilize Katahdin has still been able to advance some of its transportation goals – like acting as a clearinghouse for transportation options and working with Penquis Community Action Program to boost ride services in the area. In 2021, the initiative intends to launch a volunteer ride network when it is once again safe to do so.
But when the pandemic subsides, DeLaney said Mobilize Katahdin is not likely to move away from the other areas of need that it has worked to address.
"This is such a great success story for the community," said DeLaney. "Moving forward, the question is how do all these things work together."