Mitchell Institute program helps a remarkable group of students succeed in college and beyond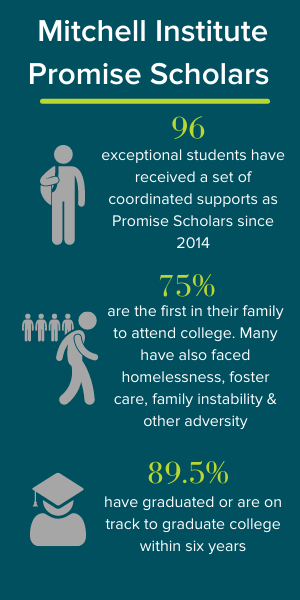 Every year, the Foundation looks forward to meeting Mitchell Institute Promise Scholars, a remarkable group of students who have overcome great adversity to succeed in
college and beyond. Their stories never fail to be inspiring – nor to be a testament to why the Foundation supports this innovative program to help students from difficult circumstances achieve their potential.
The Foundation had the privilege of meeting with five scholars last October. While the visit had to be on Zoom, rather than in person, their stories were no less powerful.
In high school, each persevered through challenge after challenge to make it to graduation. On top of the stress of being teenagers, they had to deal with things like homelessness, navigating the foster care system, and coping with family instability. All wanted to go to college but were unsure how they would manage the financial burden.
Upon receiving the four-year Mitchell Scholarship, they felt the relief and excitement of having their college tuition within financial reach. Established by Senator George J. Mitchell, the program awards four-year, $10,000 scholarships to students from every high school in Maine, each of whom is selected for their academic potential, community involvement, and financial need.
But little did these students know that as Promise Scholars, they would have access to additional supports and guidance to help them overcome other challenges that could keep them from earning a degree.
"We know that it takes more than just a scholarship to support these promising students through to college graduation," said Mitchell Institute President & CEO Meg Baxter. "In seeing the grit of students who have overcome so many obstacles to make it to college, we designed this program to help them succeed in college and beyond."
In addition to the important supports afforded all Mitchell Scholars, the Promise Scholars received an increased number of one-on-one contacts from staff, an outdoor retreat weekend with other Promise Scholars called MILE III, care packages in the fall, and access to a special fund to assist with one-time emergency expenses.
"Honestly, it was my greatest support in college," said alumnus Zak Charette. "It's like a family."
Like Charette, each Promise Scholar described make-or-break moments where the program made the difference. A tuition balance was settled so a student could register for the next semester's classes. Staff helped a Scholar clear hurdles to filing as an independent student so they could receive the financial aid they needed.
Promise Scholar Bentley Simpson said the program made it possible for him to take a summer internship that gave him vital professional experience.  "The forecast looking forward is good," said Simpson, who graduated last spring as student body president at the University of Maine.
These personal accounts aren't the only things that speak to the program's success – so does the data. Nearly 90% of Promise Scholars have graduated or are on track to graduate college within six years. The national figure is 41% for all college students and just 3% for students who have been in the foster care system.
In her recent dissertation, Loren Dow, Ed.D., researched what made the program so successful. With assistance from Abby Roy Mayne, Dow interviewed nine Promise Scholars both at the beginning and end of their college experiences. All the Scholars have now graduated or are on track to graduate, and five had full-time jobs by the time they graduated.
Dow said students reported financial assistance as the most important benefit of the program but that the personal support they received in navigating college was not far behind. "Knowing that they had a lifeline – that there was someone to call and ways to get help – was an important boost for students," Dow said.
Support from the John T. Gorman Foundation support has allowed the Mitchell Institute to award an additional 10 scholarships to Promise Scholars each year.
"The resilience of each Mitchell Promise Scholar is nothing short of remarkable, and we celebrate their tremendous accomplishments in high school, college, and beyond," said Lisa Margulies, Program Associate at the Foundation and project lead. "We can't wait to see where the future takes them—and where they take the future."
The Mitchell Institute is accepting applications for 2021 Mitchell Scholarships until April 1. Go here for more information.