Foundation grant allows CEI to expand innovative program to create new child care businesses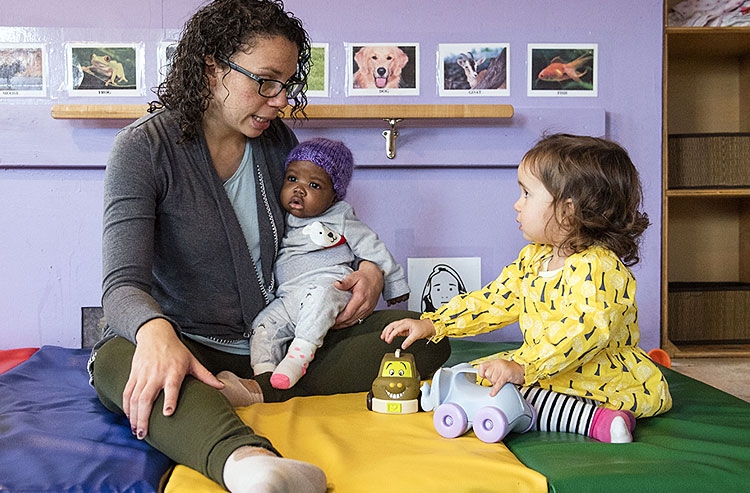 The John T. Gorman Foundation is working with Coastal Enterprises Inc. (CEI) to expand an innovative model for addressing a critical issue for Maine families – a lack of affordable, quality child care.
Over the last year, CEI has tested a pilot program – the Rim Counties Child Care Business Lab – designed to help individuals in rural Maine counties start licensed child care facilities. The cohort-based model pairs technical child care training with business assistance. As the program now enters its second year, the Foundation has provided a grant to create a new cohort in Lewiston's Tree Streets Neighborhood as part of an integrated approach to improve family well-being.
Maine's Child Care Challenges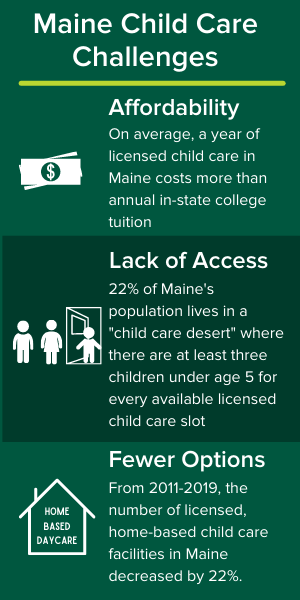 Quality child care offers many benefits to families and their communities. It gives parents greater ability to participate and advance in the workforce so they can create financial security for their families. It offers young children social and developmental opportunities that help prepare them for school. And it is a vital piece of infrastructure for local economies.
But Maine has a number of child care challenges that keep too many families from reaping its benefits. Affordability is a major one – the average annual cost of child care is more than a year of in-state college tuition. Access is another issue. According to a recent report, 26% of rural Mainers live within a "child care desert," where there are more than three children under age 5 for each licensed childcare slot.
Looking at the data around child care availability, one striking trend is a decline in the number of home-based child care facilities in Maine. From 2011 to 2019, the number of licensed home-based facilities in the state decreased by 22%, from 1,100 to 865. While exact numbers for 2020 aren't yet available, it's clear that the pandemic has had a negative impact, forcing more providers to close.
A New Model for Supporting Child Care Entrepreneurs
CEI Senior Program Director Cynthia Murphy said that downward trend – and in particular, its effect on rural communities – was a major reason why the organization created the Rim Counties Child Care Business Lab. CEI has a long record of working with child care providers, both in providing financing and technical assistance, and wanted to develop a model for restoring some of the quality child care options that had been lost in rural parts of the state.
The Child Care Business Lab was designed to help those who were interested in starting a child care facility, but were intimidated by twin challenges of becoming licensed and running a business.  "People who go into child care are passionate about early childhood development," Murphy said. "What they are really looking for is business help."
Over the course of 10 intensive workshops, participants develop their child-care/early-childhood education programming, are guided through the licensure process, and learn the fundamentals of operating a business. Along the way, they receive one-on-one assistance from a business advisor and coaching from experienced child-care mentors.
Importantly, participants learn as a cohort, so they can develop relationships among like-minded peers who can support each other after the program is completed.
By the end of the six-month pilot program last fall, participants had successfully mapped out visions for their services, translated those visions into the policies they would need to get licensed, and written the business plans they would need to get financing. Moreover, each committed to providing infant care – a major area of need – and to participate in the state's quality rating system once their businesses are in operation.
Increasing Child Care Options in Lewiston
Seeing the promise of the model, the John T. Gorman Foundation approached CEI about starting a cohort in Lewiston's Tree Street's Neighborhood, where the Foundation is deeply involved in community-led efforts to improve housing, economic opportunity, education, and success in the workforce. The goal of the Lewiston Child Care Business Lab is to add 50 child care slots in the neighborhood by helping local residents create licensed facilities to serve their neighbors. (CEI is also continuing its Rim Counties program with support from the U.S. Department of Health & Human Services and the Bill and Joan Alfond Foundation.)
Since the early 2000s, more than 6,000 refugees and asylum seekers from more than 30 countries have moved to the neighborhood. Among the greatest needs identified by residents are quality, affordable childcare with flexible hours for working parents and guardians. The neighborhood has the densest population of children in the state, but only 15 percent of children there under age 6 are enrolled in licensed child care.
As the Tree Streets community works to improve employment, earnings, education, and health outcomes among its residents, Foundation Program Associate Alexis Mann says making child care more available is integral to advancing these overlapping dimensions of household well-being.
"By increasing quality child care options in the community, you can strengthen family supports on many fronts," said Mann. "More children would have access to early learning experiences in safe spaces, a special concern because of the tragically high rates of childhood lead poisoning in the Tree Streets. And more parents would be able to participate in the workforce – offering families increased financial security, employers a larger talent pool to draw from, and the potential for new business creation."
Mann said one thing that makes CEI's Child Care Business Lab model so promising is the flexibility it has shown in accommodating a range of child care needs. "As is true in any community, it is important to create options that fit the needs of local families," she said. "We are excited about this partnership and the creation of additional quality child care options for Tree Streets families."