A partnership between the John T. Gorman Foundation and Mitchell Institute gives students from very challenging circumstances access to scholarships & intensive supports to get through college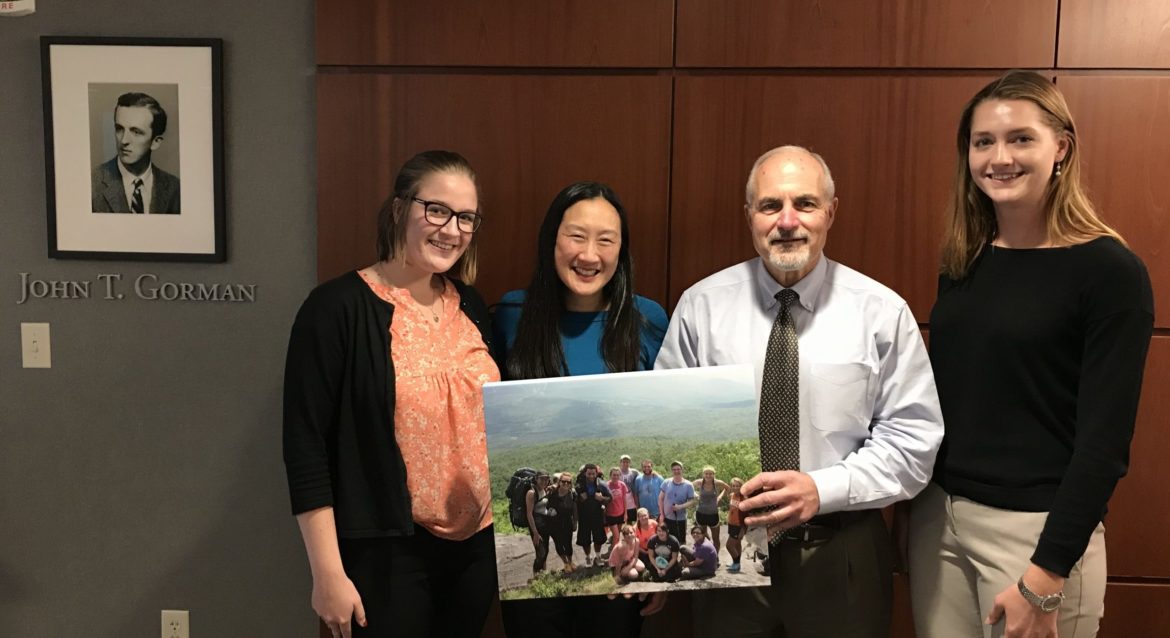 During Caitlin Farrington's sophomore year at Colby College, her adoptive parents cut ties with her. The relationship had been difficult from nearly the beginning, and by that time, she no longer relied on them for support—financially or otherwise. Still, it was a difficult loss, the latest of many challenges that had come before, which included the death of her beloved father, being uprooted from multiple foster families, and years of emotional stress.
"They had been the only parents I had known for many years and it was hard to lose them," Farrington remembers. "Their decision to cut ties left me with no place to call home."
With two years still to go, Farrington found herself without the type of family support that is critical for getting through college. Who knew how many challenges and important choices she would face between then and graduation—without a parent to offer guidance, support, or financial resources along the way.
It was the kind of make-or-break moment for which the Mitchell Institute Promise Scholars program was made. As a Promise Scholar, Farrington had a different kind of family in her corner—one of fellow students who understood what she was going through and caring adults who could offer advice, connections to new opportunities, and even financial assistance in times of great need.
"The support system I have had through the Mitchell Institute family has been beyond anything I could have imagined," said Farrington, who graduated in 2018 and is now choosing among several medical schools where she has been accepted—a credit to her incredible resiliency, and to the targeted supports the Mitchell Institute has offered with funding from the John T. Gorman Foundation.
Senator Mitchell's enduring pledge to Maine students
Senator George J. Mitchell created the Mitchell Scholars program to ensure that "young people from every community in Maine will aspire to, pursue, and achieve a college education"—his way of honoring all the help he had received as a first-generation college student himself.
Each year, the Mitchell Institute awards a scholarship of $10,000 to a student from every public high school in Maine. Additionally, the Scholars have access to a leadership retreat called Mitchell Institute Leadership Experience (or MILE), an annual professional development event (MILE II), multiple opportunities to network with alumni, and the chance to apply for assistance to study abroad or take advantage of other opportunities they might not be able to afford otherwise. Student outcomes show the effectiveness of these supports—over 90% of current Mitchell Scholars are on track to graduate.
Scholars are selected among applicants by their academic potential, impact in the community (which could mean working, volunteering, extracurriculars, or helping their family), and financial need.
A joint partnership to support vulnerable youth
While many Mitchell Scholars are first-generation college students or come from low-income backgrounds, some have also experienced incredible instability, trauma, and adversity in their upbringing.
"In our applicant pool, we often come across students who face especially challenging circumstances," said Mitchell Institute Scholarship Director and 2019 John T. Gorman Fellow Kim Gustafson. "They show incredible promise, but may need even more resources to succeed." These students include those who have sought emancipation from their parents, come out of the foster care system, have experienced homelessness, or have suffered trauma or abuse in their upbringing.
Mitchell Promise Scholars,
By the Numbers
Since 2014, there have been 76 Promise Scholars
Students have come from all 16 Maine counties.
73% are the first in their family to attend college
67 have graduated or are on track to graduate within 6 years, a rate of 88%

(By comparison, Maine's public universities have a six-year graduation rate of about 50%. Nationally, only about 3% of students who have been in the foster care system graduate from college)

84% say that the Mitchell Institute has had an impact on their sense of themselves as leaders.
The Promise Scholars program emerged in 2014 from the Mitchell Institute's desire to support these students and the John T. Gorman Foundation's priority of helping vulnerable older youth make successful transitions to adulthood.
"Students who come from these kinds of circumstances face many challenges to completing college," said Foundation President & CEO Tony Cipollone. "We saw the great results the Mitchell Institute had achieved by supporting its Scholars through graduation and worked together with them to fit their model to the specific needs of this population."
Foundation support has allowed the Mitchell Institute to award an additional 10 scholarships to Promise Scholars each year. These students get all the benefits of being a Mitchell Scholar, along with special supports – including an outdoor retreat weekend with other Promise Scholars called MILE III, care packages in the fall, access to a special fund to assist with one-time expenses that might keep them from graduating, and an increased number of one-on-one contacts from staff.
For the last two years, Promise Scholars have visited the Foundation offices to meet with staff and share their stories.
"The first thing that strikes you about these incredible students is the resiliency they've shown in overcoming unthinkable hardship while growing up. 'Inspiring' is a wholly inadequate descriptor," Cipollone said. "But it's also powerful to hear how this program was there for them when they needed it. We can't replace a family for these students, but we can do our best to replicate some of the key supports one offers. The stories of these Scholars—and outcomes for the program overall—show the success that can happen when you do so."
"We really do see it as joining a family," Gustafson said. "It's not just a scholarship check. We're meeting our Scholars wherever they are in their development."
'We were going to be part of a family'
A new kind of family of people who understood her challenges was especially important to Promise Scholar Abby Weigang.
During her junior year of high school, unsafe circumstances meant that Weigang had to abruptly leave home, be placed in foster care, and live with her grandmother in another community. After spending her whole life in one town, she suddenly found herself having to adjust to a new high school. During the rough transition, she poured herself into her school work and had a very successful senior year. But anxiety about college mounted.
"I was really worried about the financial aspect of college. I had an extended family who were emotionally supportive, but I really didn't have a financial safety net," she said. "And no one (at college) would know what I had come from. Knowing you're not going to relate to the majority of students your age because of that is a scary thing."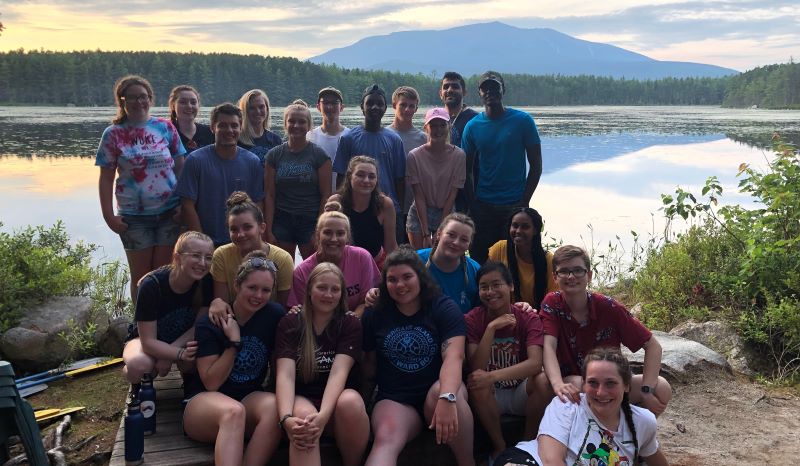 Weigang found immediate relief in the financial scholarship, but didn't realize the full benefits until she met Mitchell Institute staff and fellow Promise Scholars at the MILE III retreat.
"The staff was clear that they wanted to support us, not just financially but emotionally—and help us build a connection with other people who know what we've gone through because they've overcome adversity, too," she said. "We were going to be part of family with other Scholars who were navigating the same course. That was the most valuable thing to happen to me, potentially ever."
Throughout her four years at University of Maine, Weigang said the Mitchell Institute was a "constant presence." While other students got care packages from home, she received one from the Mitchell Institute. The Mitchell Institute helped her quickly resolve transportation trouble sophomore year so she didn't have to miss work, class, or athletics. Attending Mitchell Institute events gave her access to new networks and "no-agenda coffees" allowed her to ask staff for advice. And funds enabled her to live with a host family for two months in Spain, a "life-changing" event that exposed her to new cultures and ways of thinking.
She graduated last spring with a degree in bio-engineering. For the moment, she is working as an admissions counselor at the university, but is planning to pursue an advanced bio-engineering degree.
Seeing results
Weigang said she doesn't know where she would be without the Promise Scholars program. "A lot of the credit for the program's success goes to the Scholars themselves, who manage to get to high school graduation and then through college," she said. "But there were many times when the program made some really clear differences in the way it helped me."
Soon to begin her journey in medicine, fellow Scholar Farrington agrees. "I must emphasize that this success could not have happened without the support of this incredible program," she said.
"It's a gift for us to support these students and see what happens," said Mitchell Institute Project Manager Andrea Mitchell, who manages the Promise Scholars program.
The same sentiment goes for the John T. Gorman Foundation, which is grateful for the chance to help these resilient Maine students achieve the great promise within them, while advancing a promising model that could help others in the future.