John T. Gorman Foundation grant supports efforts at Good Shepherd Food to develop community-driven strategies to address hunger and empower the food insecure as advocates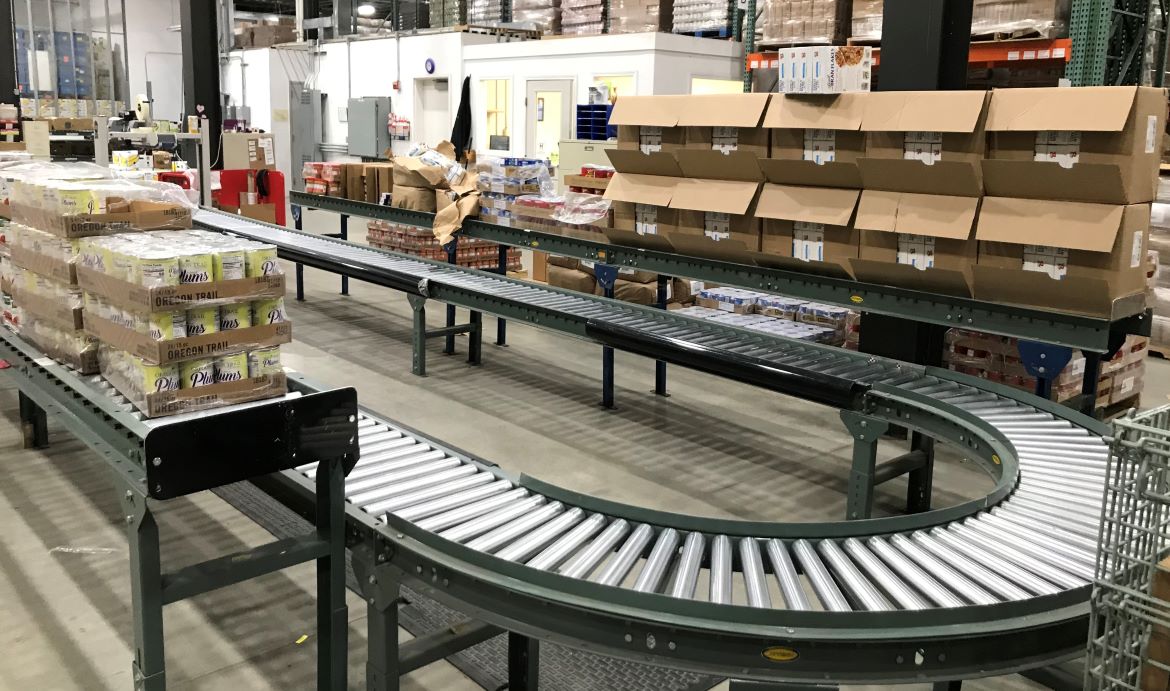 At Good Shepherd Food Bank's warehouse in Auburn, forklifts raise pallets of food onto shelves over 30 feet high. Garage doors lead to refrigerated coolers that can hold up to 22 truckloads of fresh fruit, vegetables, and dairy. Boxes full of donated food from area grocery stores ride along conveyer belts to be sorted and cataloged by volunteers. Workers roam the floor, putting together orders for food pantries across the state.
It is a massive, smooth-running logistical operation. And, by many measures, it is a very successful one. Through its partner agencies, Good Shepherd served 25 million meals in 2019, assisting approximately 178,000 Mainers a month. It's an incredibly important service to our state, which has the highest hunger rate in New England and where 1 in 5 children are food insecure. There's no doubt that Maine people have benefited greatly from how Good Shepherd has met their need for assistance.
But President Kristen Miale would be the first to say that it's not enough. Despite Good Shepherd Food Bank's best efforts, hunger persists. And meeting the organization's ambitious goal for 2025—ensuring that all Maine people have access to the food they need to thrive—will take more than feeding people alone. That is why, with John T. Gorman Foundation support, the Food Bank is advancing strategies to drive fundamental changes to how the state addresses hunger, community by community and client by client.
'A Secondary Food System'
Like many Maine organizations, Good Shepherd Food Bank comes from humble beginnings. In 1981, Joann and Ray Pike read about a food bank—a new concept at the time—in Kansas City that took surplus food donations from local stores to share with those in need. (At the time, unsold food was commonly thrown out.) They started a food bank of their own in their garage, quickly outgrowing the space. A relationship to accept food from area Hannaford Supermarkets allowed Good Shepherd Food Bank to supply food pantries in other communities.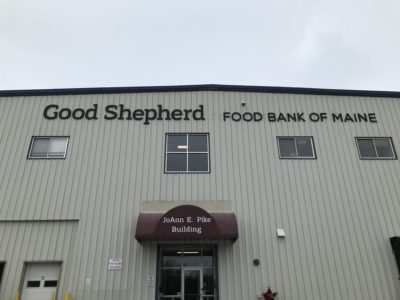 Since then, the Food Bank has grown to two massive warehouses—one in Auburn and another in Hampden. It supplies a network of more than 450 food pantries, meal sites, shelters, schools, and community programs in all 16 Maine counties. And it has drastically increased the share of fresh products it distributes to 60%.
Through all these changes, the basic food bank model persists. While it fills a need, Miale said it has its flaws. Local food pantries and programs were built around the limitations of the volunteers, facilities, and resources available at the time. They weren't designed in an intentional, systematic way to best accommodate their clients, nor did they anticipate having to operate for so long.
"They were formed to address what they saw as a temporary emergency need, but here we are 40 years later," Miale said. "We've basically created a secondary food system. We're addressing hunger enough so that it's not a crisis. But we want to end hunger in the long run and put the client at the center of the solution."
Good Shepherd Food Bank's latest 10-year plan aims to move the organization and its network in that direction. A John T. Gorman Foundation grant in 2019 supported efforts to help the organization reshape its approach to addressing hunger in Maine—by developing community-driven strategies to tackle regional food security challenges, and training clients with experiences in food insecurity to be advocates for change.
Community-Driven Strategies
In 2019, Good Shepherd Food Bank worked with three regions—Lewiston, the suburbs of Portland, and Northern Penobscot County—to develop strategies designed to meet their unique food system challenges. The organization not only reached out to its partner agencies in those areas, but other groups working on challenges related to hunger. It also invited clients to share their thoughts and feedback.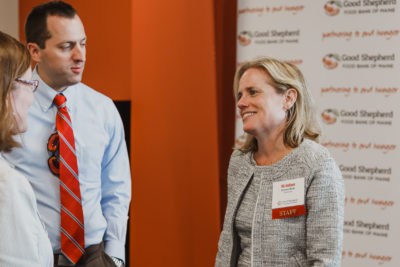 "We asked the question, 'What are the big ideas that can move food security forward in your area?'" Miale said. Solutions had to meet three criteria: increasing food access for local people, lifting and empowering food-insecure Mainers, and improving community connections.
After assessing local needs and opportunities, the local groups were given the opportunity to fund what they saw as the most promising solutions.
"As you can guess, hunger is a multiheaded issue—there are no simple solutions," said Doug Horner, Director of the Stroudwater Food Pantry and a participant in the Portland area's working group. Their conversations centered on addressing hunger among students, making clients feel more welcome and comfortable receiving assistance, and helping those whose transportation challenges kept them from accessing assistance.
The last issue is a frequent concern of many Stroudwater Food Pantry clients, Horner said. The pantry is not in a walkable location and many who would access it are elderly, disabled, or without a vehicle. "The strategy we came up with was a delivery program," Horner said. Through the funding Good Shepherd Food Bank made available, the food pantry was able to purchase a delivery van. It reached 14 households in its first month and expects to serve more as word gets out.
Building Advocates Leadership Project
The best people to identify changes needed in the food system are those who have experienced food insecurity themselves, Miale said, which is why raising up their voices has been a critical part of their initiative. On top of hosting community conversations to hear from those who receive assistance, Good Shepherd Food Bank also convened an eight-week program to train individuals in leadership and advocacy. The first round of training had eight participants from the Rockland area who were being served by Area Interfaith Outreach.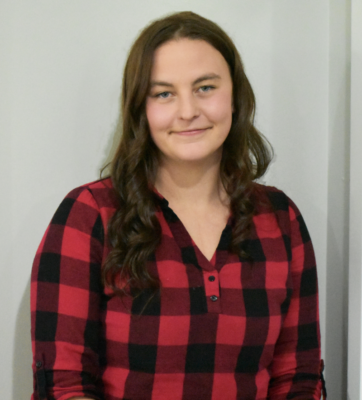 A critical part of the program is helping participants share their stories with policy officials so that decision makers better understand the challenges facing those in need. One of those storytellers is Keisha Beal, a 28-year-old mother from Rockland. "I am the survivor of generational poverty," she begins her story, before recounting traumatic events of growing up after the murder of her father and dealing with hunger as an everyday reality. As a mother to three, she then struggled to feed her own family. She described such challenges as losing food assistance when she took full-time work, scraping together meals for her hungry children, and being scolded at the grocery store for using WIC benefits.
For the last 10 years, Area Interfaith Outreach has provided Beal and her family with food, vital assistance, and support. "They've been there for me through every major event and setback and I will be forever grateful for their support," she said.
Despite many challenges, she has worked toward a Bachelor's degree in mental health and human services for the last six years. She will graduate this spring from the University of Maine at Augusta and plans to become a case worker. (You can read her powerful story in her own words here.)
Beal said the leadership program gave her confidence and made her excited to pursue advocacy around food security. She hopes sharing her story will help dispel people's judgments and preconceived notions about living in hunger and poverty. "Poverty is not natural. It is a social construct," she said. "It isn't the fault of the needy, or the responsibility of the charitable."
Next Steps
Earlier this year, the John T. Gorman Foundation awarded an additional two-year grant to Good Shepherd Food Bank so it can continue expanding and building on these promising strategies. Miale hopes eventually to take the community-driven strategies to all 27 regions it has identified in the state and continue supporting individuals like Keisha to share their voices with decision makers. The organization is also looking at widening its partnerships and advocacy to include a broader set of contributors to hunger.
The Food Bank's willingness to think about their work differently is an important reason why the John T. Gorman Foundation has partnered with Good Shepherd on this initiative, said Senior Program Associate Jennifer Beck.
"Good Shepherd Food Bank does an exceptional job helping local organizations address people's immediate food needs, which is very important. But what makes this work so compelling is that they are trying to change the system itself," Beck said. "In looking closely at the challenges individual communities face and building up those who live with food insecurity, it feels like these strategies are getting closer to addressing the root causes of hunger."