County Profile
Penobscot
Centrally located in the state, Penobscot County is home to Maine's second-largest city, Bangor, and to the University of Maine.
Penobscot
Penobscot County at a Glance:
19.1% of children under 18 live in poverty.**
28.4% of children in Penobscot County receive SNAP benefits, 48.6% of school-aged children are eligible for subsidized school meals.**
24.4% of children are living with food insecurity.**
The infant mortality rate in Penobscot County is 8.4 per 1,000.**
8 per every 1,000 children in Penobscot County are in DHHS custody.**
49.7% of children in Penobscot County participate in MaineCare.**
43.4% of people in Penobscot County are not currently in the workforce.*
18.7% of the population is under the age of 18.*
35.5% of the population achieved a high school degree; 35.5% have a bachelor's degree or higher.*
The high school graduation rate for Penobscot County is 90%.**
*Source: American Community Survey 5-Year Estimates, 2012-2016
**Source: Maine Kids Count 
---
Featured Work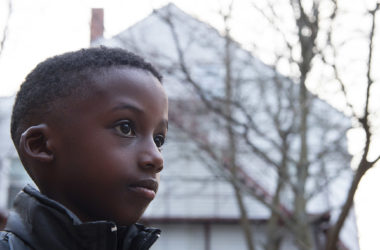 Case Study
Enhanced Family Self Sufficiency Program, Bangor Housing Authority
The primary objective of FSS is to help families decrease their reliance on public assistance by reducing disincentives to employment and advancing economic independence while presenting a promising mechanism for helping subsidized housing participants accumulate savings and build assets.
Grants Awarded in this Region
| Date | Organization | Award | Description | Location |
| --- | --- | --- | --- | --- |
| 2022 | Bangor Area Homeless Shelter | $15,000 | To provide general operating support. | Bangor, ME |
| 2022 | Eastern Area Agency on Aging | $20,000 | To support a nutritious meals program - including home delivery and congregate dining options - for low-income, older adults in Hancock, Penobscot, Piscataquis, and Washington counties. | Brewer, ME |
| 2022 | Mabel Wadsworth Women's Health Center | $25,000 | To provide essential health care to low income Mainers to address immediate needs related to physical and mental health. | Bangor, ME |
| 2022 | Piscataquis Regional Food Center | $15,000 | To provide general operating support. | Dover Foxcroft, ME |
| 2022 | St. Joseph Hospital | $25,000 | To improve food security in adults with chronic disease who are identified while patients at St. Joseph Hospital. | Bangor, ME |
| 2022 | Town of Danforth, Maine | $18,500 | To provide older adults in the greater Danforth area with free and nutritious meals, increased social opportunities, and no-cost transportation options. | Danforth, ME |
| 2021 | Bangor Area Homeless Shelter | $20,000 | To provide general operating support. | Bangor, ME |
| 2021 | Bangor Housing Authority | $20,000 | To support continued funding to cover facility expenses at the Brewer Community Center, proposed home to the Enhanced Family Self-Sufficiency Learning Institute. | Bangor, ME |
| 2021 | Bangor Housing Authority | $158,000 | To support Families Forward, a two-generation approach which combines economic supports to parents, parent capacity building, child development, and educational and social-emotional learning to significantly improve outcomes for parents and children simultaneously. | Bangor, ME |
| 2021 | Bangor Housing Authority | $45,000 | To partner with the Urban Institute to launch and implement an Enhanced Family Self Sufficiency (FSS) Institute, providing learning and training opportunities for FSS program coordinators across the state of Maine. | Bangor, ME |
| 2021 | Bangor YMCA | $25,000 | To increase access to youth and adolescent mental health, wellness, and community supports during the COVID-19 pandemic. | Bangor, ME |
| 2021 | Christine B. Foundation | $15,000 | To provide equitable nutrition assistance to food insecure patients with cancer, recent survivors, and their families, in eastern Maine. | Bangor, ME |
| 2021 | Easter Seals Maine | $15,000 | To provide critical housing supports and services to veterans and service members who are unstably housed, homeless, or at risk of homelessness in the rural Bangor area. | South Portland, ME |
| 2021 | Mabel Wadsworth Women's Health Center | $15,000 | To provide essential physical and mental health care services to low-income people in Northern and Eastern Maine. | Bangor, ME |
| 2021 | OHI | $15,000 | To support the efforts of the Brewer Area Food Pantry to serve local food-insecure residents and families. | Bangor, ME |
| 2021 | Piscataquis Regional Food Center | $7,000 | To provide general operating support. | Dover Foxcroft, ME |
| 2021 | Shaw House | $20,000 | To provide general operating support. | Bangor, ME |
| 2021 | Union Street Brick Church | $5,000 | To provide general operating support. | Bangor, ME |
| 2021 | Wabanaki Public Health and Wellness | $25,000 | To support tribal members' substance use recovery efforts through the Wicuhkemtultine (Helping All) program. | Bangor, ME |
| 2020 | Bangor Housing Development Corporation | $100,000 | To support the continued expansion and maintenance of the successful enhanced Family Self Sufficiency program at Brewer and Old Town Housing Authorities. | Bangor, ME |
| 2020 | Bangor Housing Development Corporation | $20,000 | To plan an Enhanced Family Self Sufficiency Institute, providing learning and training opportunities for FSS program coordinators across the state of Maine. | Bangor, ME |
| 2020 | Boys and Girls Club of Bangor | $25,000 | To provide general operating support to address the basic needs of vulnerable populations that are under additional strain due to the COVID-19 pandemic. | Bangor, ME |
| 2020 | Food AND Medicine, Jobs with Justice Education Fund | $15,000 | To provide food and volunteer support to Bangor area food pantries, along with food delivery and support to low-income and house-bound community members during the COVID-19 pandemic. | Brewer, ME |
| 2020 | OHI | $15,000 | To support the efforts of the Brewer Area Food Pantry to serve local food-insecure residents and families. | Bangor, ME |
| 2020 | Penobscot Community Health Care | $15,000 | To support the basic communication needs of individuals experiencing chronic homelessness in Penobscot County via the provision of cell phone devices and unlimited voice, text and data plans. | Bangor, ME |
| 2020 | Penquis C.A.P., Inc. | $25,000 | To support efforts to reduce family stress, isolation and child abuse through socially-distanced visits to at-risk families during the COVID-19 pandemic. | Bangor, ME |
| 2020 | Piscataquis Regional Food Center | $10,000 | To provide general operating support. | DOVER FOXCROFT, ME |
| 2020 | Shaw House | $50,000 | To provide general operating support to address the basic needs of vulnerable populations that are under additional strain due to the COVID-19 pandemic. | Bangor, ME |
| 2020 | Wabanaki Public Health And Wellness | $10,000 | To continue support for the Literacy and Love program, providing additional books and educational resources to Wabanaki elders and veterans. | Bangor, ME |
| 2019 | Bangor Housing Authority | $200,000 | To support the replication of BHA's successful enhanced Family Self Sufficiency program at the Brewer and Old Town Housing Authorities and to align the programming available to participants at all three housing authorities. | Bangor, ME |
| 2019 | Bangor Housing Authority | $127,000 | To support the work of Families Forward, a two-generation approach which combines economic supports to parents, parent capacity building, child development, and educational and social-emotional learning to significantly improve outcomes for parents, children and families. | Bangor, ME |
| 2019 | Bangor Housing Authority | $140,000 | To support the work of Families Forward, a two-generation approach which combines economic supports to parents, parent capacity building, child development, and educational and social-emotional learning to significantly improve outcomes for parents, children and families. | Bangor, ME |
| 2019 | City of Bangor Public Health & Community Services Department | $25,000 | To provide support for a Homeless Outreach Caseworker who will assist chronically homeless adults in securing and maintaining stable housing. | Bangor, ME |
| 2019 | Mabel Wadsworth Women's Health Center | $15,000 | To provide mental health counseling to low income Mainers residing in northern and eastern Maine. | BANGOR, ME |
| 2019 | The Urban Institute | $92,798 | To support the continued adoption of key components of the Urban Housing, Opportunity, and Service Together model to enhance and track outcomes for the Bangor Housing's Families Forward program. | Washington, DC |
| 2018 | Bangor Housing Authority | $124,000 | To replicate Bangor Housing Authority's successful enhanced Family Self-Sufficiency Program program at the Brewer and Old Town Housing Authorities. | Bangor, ME |
| 2018 | Four Directions Development Corporation | $15,000 | To provide support for general operations to provide access to safe, quality housing for members of the Maliseet, Micmac, Passamaquoddy, and Penobscot tribes, mostly located in Aroostook, Penobscot, and Washington counties. | Orono, ME |
| 2018 | Friends of Baxter State Park | $20,000 | To expand participation in the Baxter Youth Conservation Corps, giving young people in Maine's Katahdin region work experience, job skills, and increased confidence and aspirations. | Belfast, ME |
| 2018 | Goodwill Industries of Northern New England | $20,000 | To provide support for the Job Connection Bangor program, providing wrap-around workforce development services to low-income adults with multiple barriers to successful employment such as food scarcity, unstable housing, and transportation issues. | Portland, ME |
| 2018 | Penquis | $25,000 | To provide emergency home repair services to low-income families in Penobscot, Piscataquis, and Knox counties whose homes have been determined to pose an "imminent threat to health or safety" to prevent homelessness, illness, and injury. | Bangor, ME |
| 2018 | Piscataquis Regional Food Center | $3,200 | To provide support for a Farm Share program, providing fresh vegtables and fruit to homebound seniors living in or near Piscataquis County. | Dover Foxcroft, ME |
| 2017 | Bangor Housing Authority | $250,000 | To support Families Forward, a two generation approach to improving outcomes for children, parents and families. | Bangor, ME |
| 2017 | Bangor Housing Authority | $50,000 | To support summer programming with the goal of preventing summer learning loss and maintaining literacy achievement for youth. | Bangor, ME |
| 2017 | Ellsworth Free Medical Clinic | $7,000 | For general operating support. | Ellsworth, ME |
| 2017 | Families and Children Together | $25,000 | To provide parents and their families access to Navigator Services at the Community Home Alternative Medication Program (CHAMP) Clinic at Penobscot Community Health Center. | Bangor, ME |
| 2017 | Gedakina | $20,000 | To support the LifeWays Program, which focuses on increased access to direct services for Native American families in Portland and Bangor. | Bangor, ME |
| 2017 | OHI | $15,000 | To provide support for the Brewer Area Food Pantry. | Hermon, ME |
| 2017 | Penquis | $25,000 | To provide support for the Piscataquis Safe Havens Center. | Bangor, ME |
| 2017 | Pine Tree Hospice | $10,000 | For general operating support. | Dover-Foxcroft, ME |
| 2017 | Telling Room | $29,950 | To provide project-based summer literacy programming and creative writing instruction to English Language Learners and other under-resourced elementary and middle school students in the Greater Portland and Bangor areas. | Portland, ME |
| 2017 | The Urban Institute | $99,990 | To support the adaption of key components of the Urban Housing, Opportunity, and Service Together model to enhance and track outcomes for the Bangor Housing's Families Forward program. | Washington, DC |
| 2016 | Alfond Youth Center | $49,970 | For community-based summer programming to address summer learning loss in Bangor's Capehart neighborhood. | Bangor, ME |
| 2016 | Bath Housing Development Corporation | $25,000 | To provide comprehensive technical assistance services to four Maine Public Housing Authorities as they replicate Bath Housing's Community Aging in Place Program. | Bath, ME |
| 2016 | Muskie School of Public Service | $50,000 | To support Maine LEAP, a coordinated delivery of two evidence based programs to improve education and career outcomes for youth in foster care. | Portland, ME |
| 2016 | Muskie School of Public Service | $65,000 | To support an enhanced level of coordination and organization among all service providers who work with youth in foster care. | Portland, ME |
| 2016 | Muskie School of Public Service | $50,000 | To develop and implement an employer engagement strategy to address youth workforce development in Maine. | Portland, ME |
| 2016 | Penobscot Community Health Care | $25,000 | To provide mental health services to clients in the Hope House Health and Living Center. | Bangor, ME |
| 2016 | Penquis | $15,000 | To provide transportation assistance for individuals who do not have or cannot afford transportation to cancer treatment or support. | Bangor, ME |
| 2016 | Penquis | $140,000 | To increase the quality of family, friend and neighbor care in Bangor's Capehart community. | Bangor, ME |
| 2016 | Pine Tree Hospice | $15,000 | To assist clients and families experiencing end-of-life challenges and bereavement. | Dover-Foxcroft, ME |
| 2016 | The Shaw House | $20,000 | To provide mental health support services for homeless at-risk youth throughout five counties in Maine. | Bangor, ME |
| 2016 | University Of Maine System - New Ventures Maine | $10,000 | To provide coordinated financial education, career planning training and individual coaching to help meet individual and program goals for Family Self- Sufficiency Programs at the Bangor Housing Authority and Lewiston Housing Authority. | Augusta, ME |
| 2016 | Upper Valley Economic Council | $5,000 | To provide support for the Upper Valley Economic Council's Food Pantry, serving food insecure families in Aroostook County. | Sherman, ME |
| 2015 | Alfond Youth Center | $44,600 | To implement the Smarter Summer Program at the Bangor chapter of the Boys and Girls Clubs. | Bangor, ME |
| 2015 | Eastern Area Agency on Aging | $20,000 | To support the Pantry Partners program, which serves low-income clients through emergency and supplemental food boxes and transportation of food from food pantries to seniors' homes. | Bangor, ME |
| 2015 | Food AND Medicine, Jobs with Justice Education Fund | $15,000 | To provide funding to deliver healthy, locally grown food to SNAP users, including families in crisis, laid-off workers, seniors, and people with disabilities who need homecare. | Brewer, ME |
| 2015 | Friends of Aroostook | $15,000 | To provide funding to grow, maintain, harvest, and deliver fresh produce to Area Agencies on Aging sites in Aroostook, Washington, Piscataquis and Penobscot Counties. | Houlton, ME |
| 2015 | Maine Center for Coastal Fisheries | $300,000 | Three year grant for the Eastern Maine Skipper's Program, which provides multiple pathways to high school graduation for at-risk students interested in marine related careers. | Stonington, ME |
| 2015 | Maine Farmland Trust | $25,000 | To support programs that help address the needs of food insecure people in Maine.   | Belfast, ME |
| 2015 | Penquis | $25,000 | To provide funding for transportation assistance for cancer patients who do not have or cannot afford transportation. | Bangor, ME |
| 2015 | Penquis | $25,000 | For the Good Neighbor Fund, which is specifically targeted to Maine communities with unexpected heating needs due to recent mill closings. | Bangor, ME |
| 2015 | Pine Tree Hospice | $15,000 | To provide operating support to assist clients and families experiencing end-of-life challenges and bereavement. | Dover-Foxcroft, ME |
| 2015 | Upper Valley Economic Council | $5,000 | To provide support for the Upper Valley Economic Council's Food Pantry, serving food insecure families in Aroostook County. | Sherman, ME |
| 2014 | Bangor Housing Authority | $385,000 | Three year grant to enhance its Family Self-Sufficiency Program through case management services that connect residents with the workforce or education and training opportunities as well as other asset building services. | Bangor, ME |
| 2014 | Brandeis University | $387,000 | Three year grant to provide technical assistance to and evaluation of expanded Family Self Sufficiency and Family, Friend and Neighbor Care programs. | Waltham, MA |
| 2014 | Penquis | $15,000 | To provide funding for transportation assistance for individuals who do not have or cannot afford transportation to cancer treatment or support. | Bangor, ME |
| 2014 | Pine Tree Hospice | $15,000 | To provide operating support to assist clients and families experiencing the challenges and needs that accompany end of life and bereavement. | Dover-Foxcroft, ME |
| 2014 | Spruce Run Womancare Alliance | $15,000 | To provide general operating support for 24 hour emergency shelter for men and women fleeing domestic violence situations. | Bangor, ME |
| 2014 | Women Unlimited | $350,000 | Two year grant to provide skills training, job connections and work supports to low-income individuals in Bangor, Machias and Lewiston and align that training with the workforce needs of local industries. | Augusta, ME |
| 2013 | Bangor Housing Authority | $20,000 | To develop an enhanced Family Self Sufficiency program based on data provided by Brandeis University researchers. | Bangor, ME |
| 2013 | Brandeis University | $12,100 | To create a survey and interview guide to help the Bangor Housing Authority develop plans for an enhanced Family Self Sufficiency Program. | Waltham, MA |
| 2013 | Cancer Support Center of Maine | $5,000 | To provide gas cards for cancer patients traveling to and from medical appointments. | Bucksport, ME |
| 2013 | Community Health and Counseling Services | $24,250 | To provide remote patient monitoring for individuals age 60+ living with chronic diseases such as diabetes or congestive heart failure. | Bangor, ME |
| 2013 | Eastern Area Agency on Aging | $100,000 | To support the expansion of the EZ Fix program, a year round home repair and independent living program for low-income Maine senior citizens and adults with disabilities. | Bangor, ME |
| 2013 | Four Directions Development Corporation | $40,000 | To support research and evaluation of public and private investments in various affordable housing lending products on Indian Island and their impact on residents. | Orono, ME |
| 2013 | Hammond Street Senior Center | $10,000 | To provide general operating support. | Bangor, ME |
| 2013 | Hospice Volunteers of Waterville Area | $15,000 | To improve quality of life for isolated senior citizens in rural communities who are in need of hospice and grief services. | Waterville, ME |
| 2013 | Penobscot Community Health Care | $25,000 | To increase provision of home-based primary care to seniors with chronic conditions, allowing them to age in place and maintain their health. | Bangor, ME |
| 2013 | Penquis | $20,000 | To provide transportation assistance (rides or financial reimbursement) for individuals who do not have or cannot afford transportation to cancer treatment. | Bangor, ME |
| 2013 | Pine Tree Hospice | $14,250 | To provide general operating support to continue their mission of assisting clients and families experiencing the challenges accompanying end of life and bereavement. | Dover-Foxcroft, ME |
| 2012 | Eastern Area Agency on Aging | $18,500 | To support programs that inform and educate older adults on their risk of falling and on the environmental and physical changes they can make to reduce those risks and increase independence within the home. | Bangor, ME |
| 2012 | Families and Children Together | $25,000 | To provide support for Maine Kids Kin, a program for grandparents or family members who are raising children due to family separation. | Bangor, ME |
| 2012 | Food AND Medicine, Jobs with Justice Education Fund | $10,000 | To provide a 50% discount for food stamp users who purchase food at two farmers markets in Bangor and through a farm share program. | Brewer, ME |
| 2012 | Foundation for Maine's Community Colleges | $280,000 | A two year grant to enhance academic support services at Eastern Maine Community College. | South Portland, ME |
| 2012 | Four Directions Development Corporation | $10,000 | To provide support for financial counseling and training for Maine tribal members. | Orono, ME |
| 2012 | Healthcare Charities | $25,000 | To support the Oncology Support Project in Bangor, providing low-income patients with support for basic needs while they undergo treatment at CancerCare of Maine at EMMC in Brewer. | Bangor, ME |
| 2012 | Penobscot Community Health Care | $50,000 | To provide access to dental care for those with lowest incomes and greatest need. | Bangor, ME |
| 2012 | Penquis | $30,000 | To support the Intensive Case Management program. | Bangor, ME |