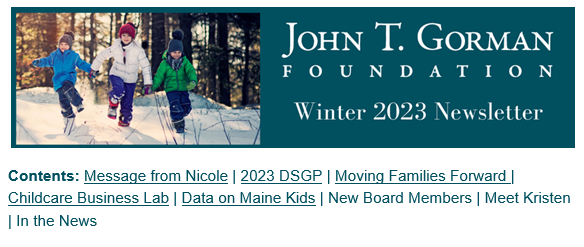 We are excited to share an update on the direction and focus of the John T. Gorman Foundation's work over the coming years. We remain committed to improving the lives of Maine people most acutely experiencing the adverse effects of poverty. But, to make greater progress toward that goal, we will be focusing more intensively on ensuring that Maine children are resilient and ready to succeed.
Over the past year, the board and staff of the Foundation have spent considerable time assessing our past grantmaking – utilizing data, asking critical questions and revisiting our mission and values – so that we could ascertain whether we are having the kind of results that we want to see for Maine people. At the same time, we examined demographic and other data to determine the populations most impacted by the adverse effects of poverty.
As a result of this work, we determined that to achieve the greatest impact over the next several years, the Foundation needs to go further upstream and focus on improving outcomes for Maine children. And, as research and our own programmatic work has shown, the best way to do that is with comprehensive approaches that strengthen families and improve the conditions around them that are critical to their success.
Beginning in 2023, we will work toward a goal of all Maine children being resilient and ready to succeed. Our invitational grantmaking and partnerships will focus more intensively on strengthening the well-being of children by ensuring that they and their caregivers have the tools and supports they need to thrive. This work will include initiatives that serve children and parents simultaneously and improve family well-being in multiple areas in an effort to prevent Adverse Childhood Experiences (ACEs).
While we plan to focus more intensively on children and families, we remain committed to helping all Mainers experiencing poverty. The Foundation will continue to administer its application-based Direct Services Grant Program for organizations that fulfill immediate and basic needs for all people in Maine experiencing poverty – needs like food, housing, transportation, and physical/mental health services. Find more information about this year's program below.
Thank you for your engagement as we move into this exciting new chapter, and please stay tuned for updates. We welcome your questions and feedback and look forward to working with you.
Read more from Foundation President & CEO Nicole Witherbee here,
or the rest of our Winter Newsletter here.