Analysis from Jessica Carson, Ph.D. and Sarah Boege at Carsey School of Public Policy at the University of New Hampshire and commissioned by the John T. Gorman Foundation.
This Data Glimpse utilizes data from the 2020 Decennial Census to illustrate how traditional survey research methods for reporting race-ethnicity provide a limited tool for understanding Maine's racial-ethnic landscape that does not leverage the full degree of detail provided by respondents. We then present an alternate version that utilizes existing data in a less traditional way and allows for a more nuanced exploration of Maine's multiracial population.
Traditional Separation of Race and Ethnicity
The standard method for research on race-ethnicity has long been to divide the population into mutually exclusive racial-ethnic groups that when summed, equal the total population. Survey respondents can typically select multiple racial-ethnic identities; however, standards for prioritizing certain identities as central persist both at the time of data collection and analysis. For instance, because respondents may select both a race and ethnicity, researchers typically avoid duplicate counts by prioritizing ethnicity first, so that Hispanic-identifying respondents are coded as Hispanic regardless of race. To avoid duplication among non-Hispanic respondents, only those reporting a single race "alone" are classified into a specific racial group, and any non-Hispanic respondents selecting more than one race alone are considered multiracial.
Traditional Racial Ethnic Composition of Maine
Figure 1 shows the number of Mainers in different racial-ethnic groups under a traditional coding schema (figure excludes the 1.2 million non-Hispanic white Mainers to preserve scale). The advantage of this presentation is that the sum of all bars equals the 134,095 Mainers of color identified in the Decennial Census. The disadvantage is that the figure shows more than 50,000 multiracial and 26,000 Hispanic Mainers but gives no information about the races with which either group identifies. And because respondents appearing in any racial category must have selected that category and that category alone, it doesn't allow multiracial Mainers to claim membership in any specific racial-ethnic group.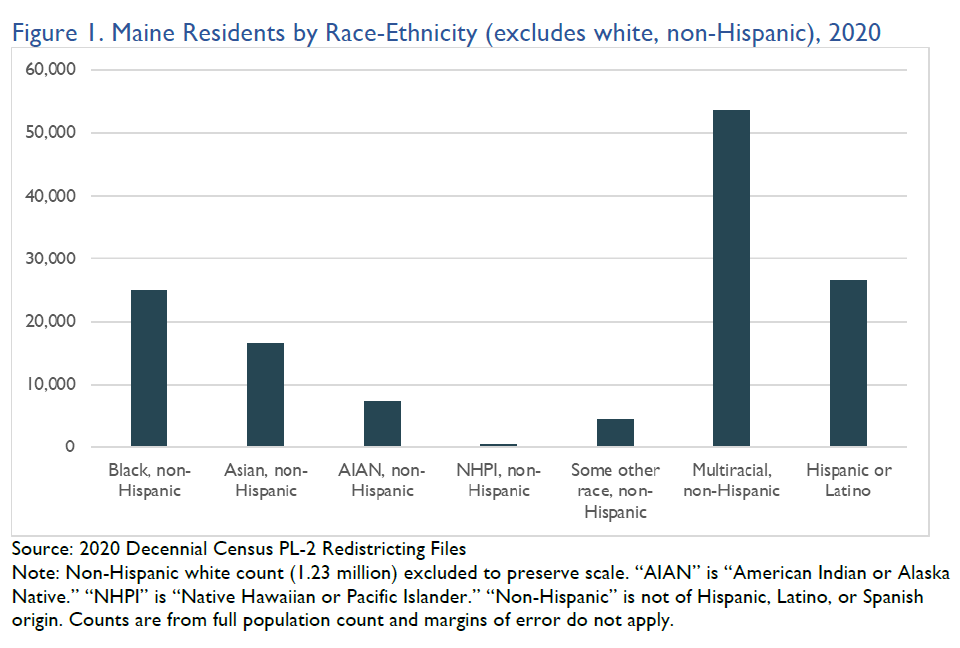 Alternate Racial Ethnic Composition of Maine
Figure 2 provides an alternate conceptualization of race-ethnicity in Maine. This version disaggregates multiracial respondents into all categories in which they claim membership, and allows Mainers to claim both a Hispanic identity and a race. The dark blue portions of the bar represent those reflected in Figure 1, above: those who identify as one race alone (not Hispanic) and those who have been coded by ethnicity only (Hispanic or Latino). The top (turquoise) portions of each bar represent Mainers who identify as each race in combination with one or more other races, or who identify as having a race that is not the same as their ethnicity. Under this schema, for example, the population of Mainers identifying as American Indian or Alaska Native more than quadruples to almost 34,000. The population of "some other race" triples, and the Black population increases by more than 10,000. In Maine's case, the increases are largely attributable to respondents with more than one race who had previously been aggregated into the "multiracial" category, although each category does include a few hundred Hispanic respondents too (greatest in the "some other race alone" category).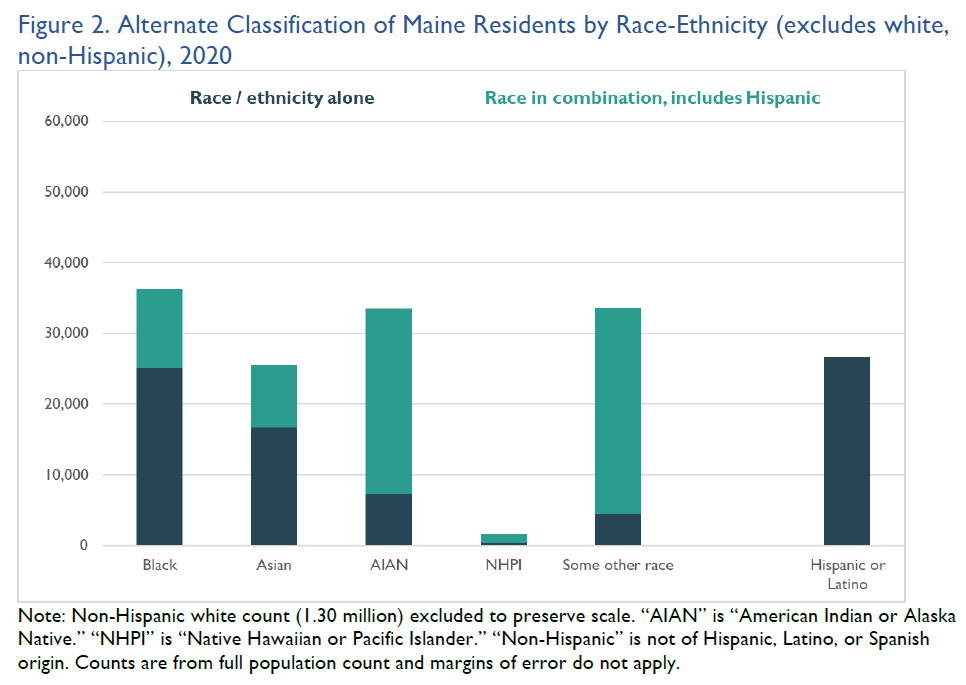 The bars in this figure no longer sum to the population of Mainers of color, but it brings the benefit of ensuring residents claiming specific racial identities have become visible. While not all data are able to be disaggregated in this way, researchers—including those at the U.S. Census Bureau—posit that there is room for both kinds of conceptualization in racial-ethnic research.
Data & Methods
This Maine Data Glimpse utilizes data from the U.S. Census Bureau's 2020 Decennial Census redistricting files (files PL1 and PL2). Because the data are presumed to be a complete census (population count) there is no corresponding sampling error associated with the data presented here. This Data Glimpse was inspired by an interesting and detailed post from the Boston Indicators project; for additional detail on the history and technical aspects of race-ethnicity measurement, we recommend that post, available here: https://www.bostonindicators.org/article-pages/2021/december/census_reporting.
Appendix: About the U.S. Census Bureau's Race-Ethnicity Measures
The traditional approach to classifying race-ethnicity described above has been shaped and supported by the ways that the nation's official source for race-ethnicity data—the U.S. Census Bureau—structures their data collection and reporting. In short, Census Bureau surveys collect race and ethnicity information from respondents in separate measures, explicitly asking respondents to include both a race and ethnicity response and clarifying that "for this census, Hispanic origins are not races." However, research finds that two-thirds of Hispanic adults report that being Hispanic is part of their racial background, and accordingly, struggle to answer a separate race question, often selecting "other race" and writing in a specific Hispanic identity, like "Latin American" or "Mexican" instead.i While requiring separate race and ethnicity reports was intended to "allow flexibility," ii the Census Bureau considered revising the measures in 2015 and found that a combined measure would better capture the identities of an increasingly diverse nation.iii That revision was ultimately not implemented.iv Race-ethnicity questions as collected in the 2020 Decennial Census are replicated below.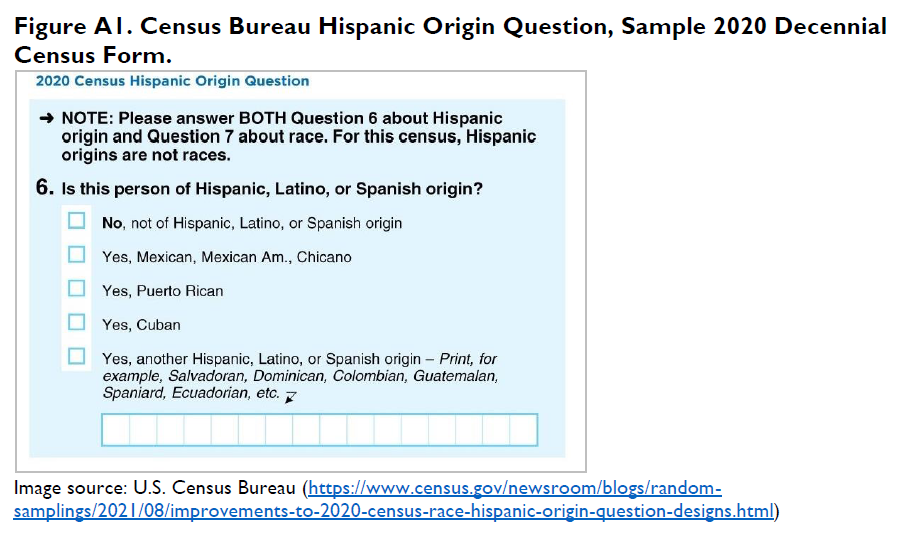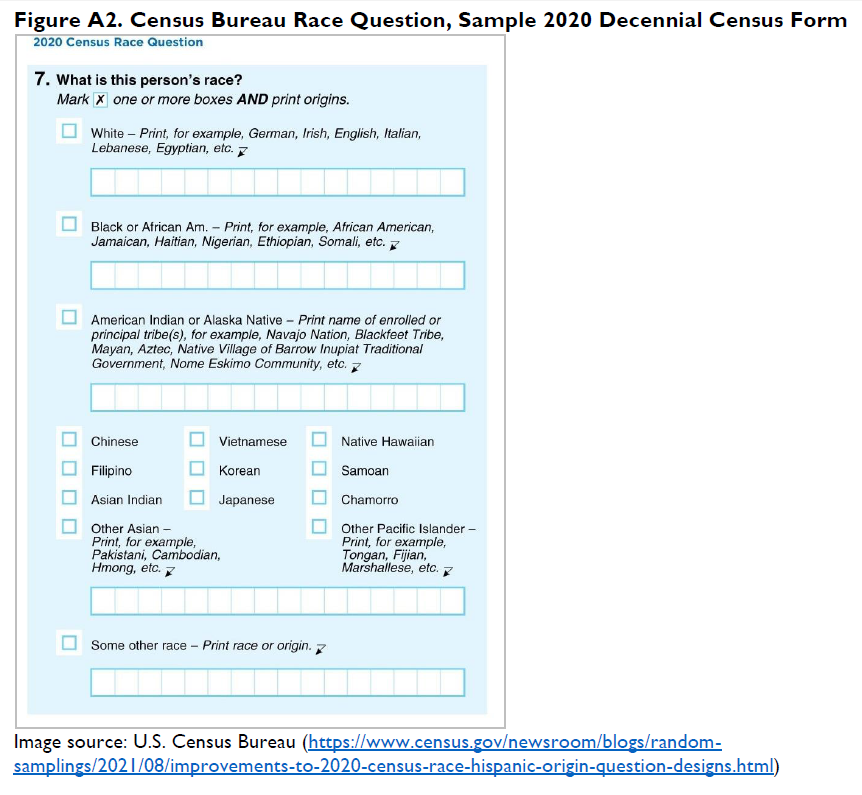 Footnotes
Image source: U.S. Census Bureau (https://www.census.gov/newsroom/blogs/random-samplings/2021/08/improvements-to-2020-census-race-hispanic-origin-question-designs.html)
i https://www.pewresearch.org/social-trends/2015/06/11/chapter-7-the-many-dimensions-of-hispanic-racial-identity/
ii https://obamawhitehouse.archives.gov/omb/fedreg_race-ethnicity
iii U.S. Census Bureau Newsroom. "2015 National Content Test Results." February 28, 2017. https://www.census.gov/newsroom/press-releases/2017/cb17-tps15.html.
iv https://www.npr.org/2018/01/26/580865378/census-request-suggests-no-race-ethnicity-data-changes-in-2020-experts-say