Analysis from Jessica Carson, Ph.D. and Sarah Boege at Carsey School of Public Policy at the University of New Hampshire and commissioned by the John T. Gorman Foundation.
This Data Glimpse uses data from the U.S. Census Bureau Household Pulse Survey collected from September 1 to October 11, 2021 to describe childcare disruptions in New England. Specifically, we estimate the share of New England households with a child under age 12 that reported that their childcare arrangement was disrupted or otherwise unavailable in the past four weeks, reflecting childcare losses in August, September, and October 2021. Limiting to these weeks allows for a current snapshot that omits summer responses when cases were lower, and schools were not in session. As a result, sample sizes are insufficient to conduct complete analysis in Maine alone, although incomplete estimates suggest the pattern is no different from New England-wide findings.
One-in-five New England households with children lacked childcare
Survey respondents in households with children under age 12 were asked, "At any time in the last 4 weeks, were any children in the household unable to attend daycare or another childcare arrangement as a result of childcare being closed, unavailable, unaffordable, or because you are concerned about your child's safety in care?" One in five, or 19.4 percent of New England households said yes, as shown in Figure 1.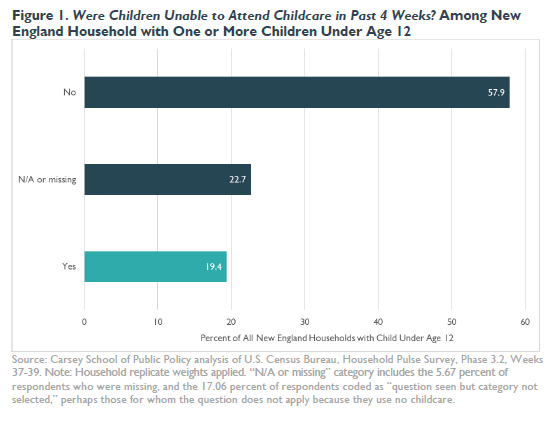 Diverse responses to childcare loss, but lost labor supply is a theme
Figure 2 shows how New England households responded to childcare disruption, with nearly one in ten New England households with a child under 12 having to use paid or unpaid leave to address childcare instability. This share—among all households with young children in the region, not just those whose childcare was disrupted—represents an important slice of the region's workforce. Respondents also reported reducing hours (7.3 percent) or stepping away from work (5.1 percent) as a way of compensating for childcare losses. Together, 15 percent of New England households with children under 12 reported some type of reduction in work effort (taking leave, reducing hours, or leaving/avoiding work) in fall 2021, representing a substantial hit to the region's labor supply and full economic recovery.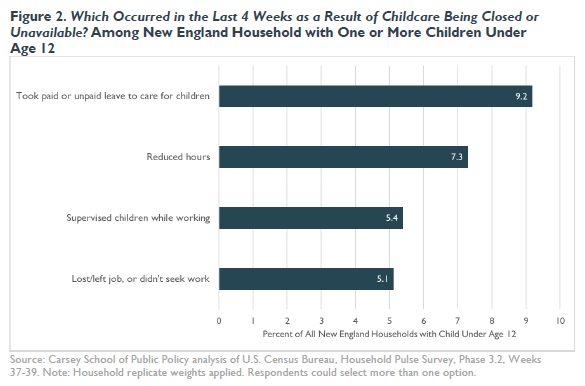 Conclusions
This analysis illustrates that New England families still face gaps in their childcare needs, even this far into the pandemic. While childcare disruptions were typical in the spring and summer of 2020, these data show that disrupted or otherwise inaccessible childcare is a challenge for families as recently as fall 2021. Households with children under 12 represent 20.4 percent of all New England households, and as described above, 15 percent of those households had to reduce their work somehow to deal with childcare losses. The pandemic's damage to the childcare sector has been well documented, and while federal relief funds have staunched further deterioration for many, the entrenched structural issues that plagued the sector pre-pandemic continue to challenge childcare supply nationwide. As additional federal investments are determined and states plan how to spend existing relief funds, addressing supply issues—at least in part through addressing the childcare sector's own workforce issues—will remain a critical issue.
About the Data
The U.S. Census Bureau created the Household Pulse Survey (HPS) as an experimental data product to collect timely data on household experiences during the pandemic.
The survey has collected data in "phases, as follows:
Phase 1: April 23, 2020 to July 21, 2020
Phase 2: August 19, 2020 to October 26, 2020
Phase 3: October 28, 2020 to March 29, 2021
Phase 3.1: April 14, 2021 to July 5, 2021
Phase 3.2: July 21, 2021 to October 11, 2021
Phase 1 of the HPS collected data weekly, while the following Phases have two-week collection periods; however, each release is still referred to as a numbered "week" to remain consistent with Phase 1. The "weeks" of Phases 3.2 included in this this data glimpse are Weeks 37, 38, and 39 (covering September 1, 2021 to October 11, 2021). Since respondents were asked about loss of childcare in their household, this analysis used household-level replicate weights.