Analysis from Jessica Carson, Ph.D. and Sarah Boege at Carsey School of Public Policy at the University of New Hampshire and commissioned by the John T. Gorman Foundation.
This Data Glimpse describes mental health data from the U.S. Census Bureau Household Pulse Survey collected from mid-August 2020 through April 2021. Pooling these data across several months allows for a large-enough sample size to conduct Maine-specific analysis by demographics. Although these estimates pool data across a long time span, it is worth noting that there are few differences between fall 2020 and spring 2021 estimates alone; that is, despite availability of vaccines and other improvements by spring, the prevalence of mental health issues among Mainers has not shifted in tandem.
Mental Health of Maine Adults During the Pandemic
Adults were asked a series of questions about their own mental health over the past week and use of mental health supports in the past month, including a series of four questions on feelings of anxiety, worry, lack of interest, and depression.1 More than half of Maine adults—51.3 percent—reported being "bothered by the problem of feeling nervous, anxious, or on edge" at least several days in the past week (Figure 1).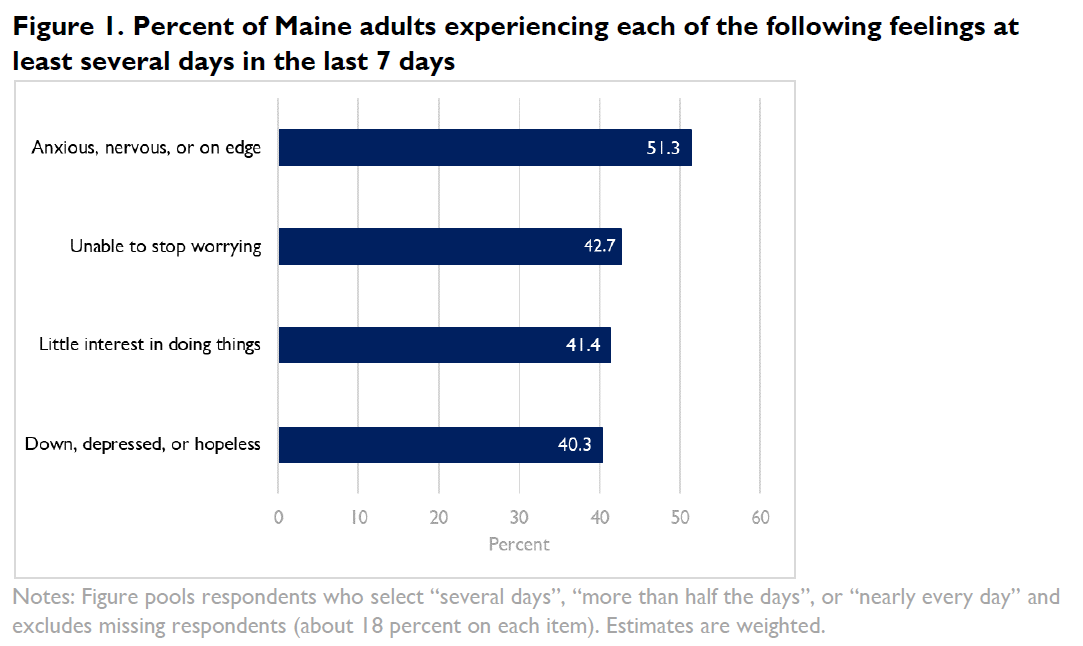 Two-in-five Maine adults also reported being unable to stop or control worrying at least several days in the past week, a share that is much higher than pre-pandemic national estimates of anxiety. According to the January-June 2019 National Health Interview Survey (NHIS)2, only 8.2 percent of all U.S. adults reported symptoms of anxiety disorder pre-pandemic.
Prevalence of depressive symptoms is similar to that of anxiety, and two in five Maine adults reported having little interest or pleasure in doing things or feeling down, depressed, or hopeless at least several days in the past week. These estimates too are substantially higher than the January-June 2019 NHIS estimate, which found only 6.6 percent of all U.S. adults had symptoms of depression.
Mental Health by Age Group Maine's prevalence of self-reported anxiety and depressive symptoms varies by age, with older adults faring comparatively better than those age 18 to 64 (Figure 2). These elevated levels among younger people may be driven in part by the competing work and family demands disproportionately likely to be facing this group, including unstable, unsafe, or remote work, pressures of child care and remote schooling, or other pandemic-related burnout issues. That no differences emerged between adults in households with and without children (not shown) suggests that some mix of challenges may drive this disparity.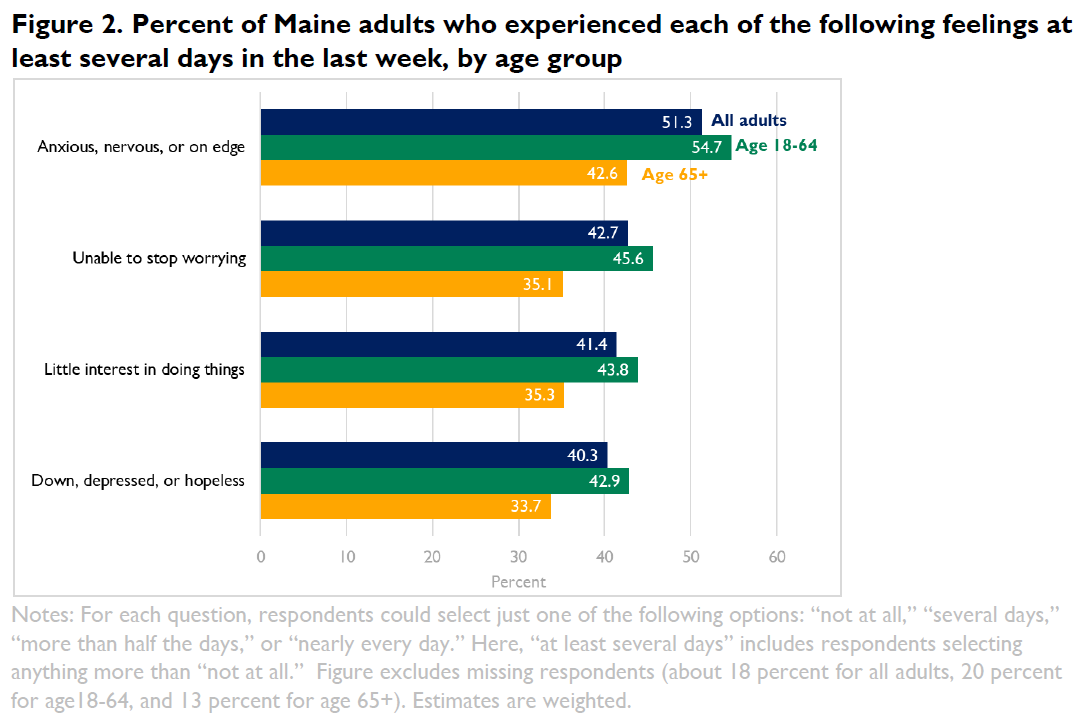 Mental Health by Financial Hardship One potential driver of mental health issues is financial strain, and indeed, anxiety and depressive symptoms are much more prevalent among Mainers who reported having difficulty paying for usual household expenses in the last 7 days.3 Figure 3 shows rates of anxiety and depressive symptoms are between 1.5 and 2 times as high among those with difficulty paying for expenses as they are among those without such difficulty.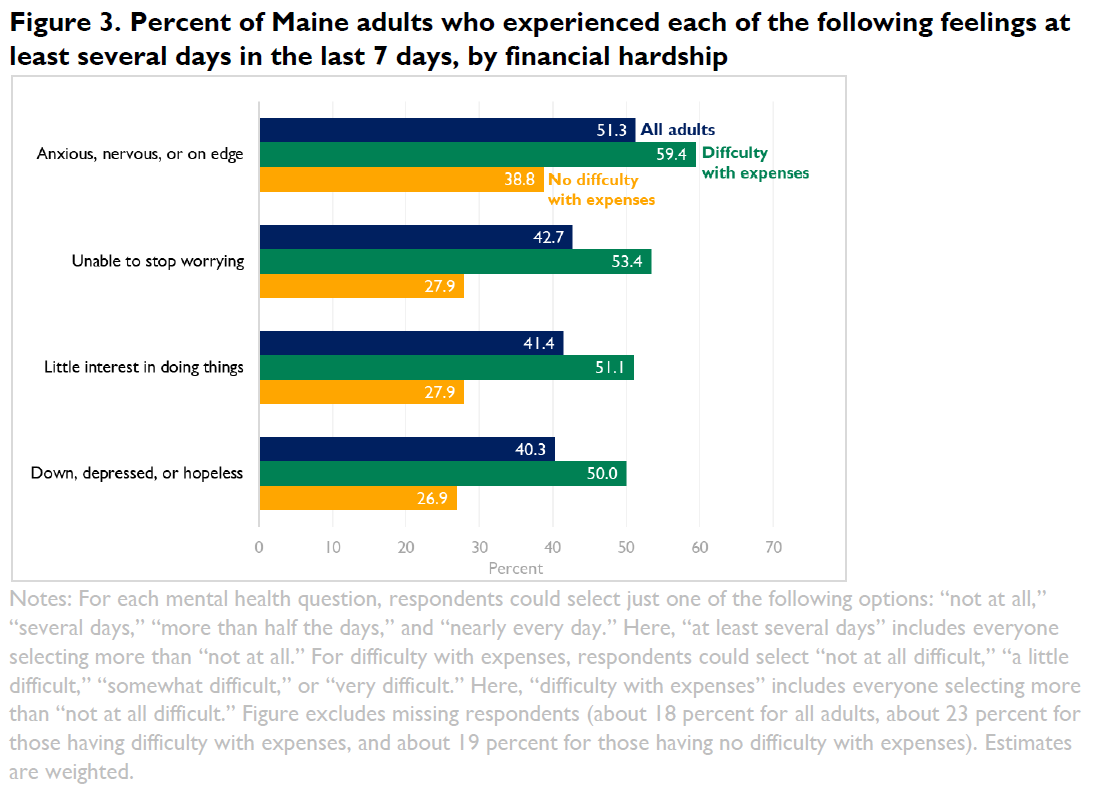 Use of Mental Health Supports
Adults were also asked about their use of mental health supports over the past four weeks.4 Around 20 percent of Maine adults, regardless of age, reported past-month use of prescription psychotropic medication to help with emotions, concentration, behavior, or mental health. However, older adults were less likely to report using counseling or therapy than their working-age counterparts (4.3 percent versus 10.3 percent), and were much less likely to report needing mental health services that they did not receive (3 percent versus 9.9 percent). That one-in-ten working-age Mainers report having unmet mental health needs in the past month speaks to the challenges of adequate mental health care provision, regardless of whether ability to pay, stigma, availability of care, or some other reason is the driver.
Finally, Figure 4 shows the elevated rates of mental health support use among those struggling with expenses. Nearly one-quarter (23.2 percent) of financially strained Mainers are taking medication, and more than one in ten received therapy. Importantly, the gap in unmet service need—11.6 percent among those with financial difficulties versus 3.3 percent of those without—suggests that the cost of mental health care may play at least some role in this disparity.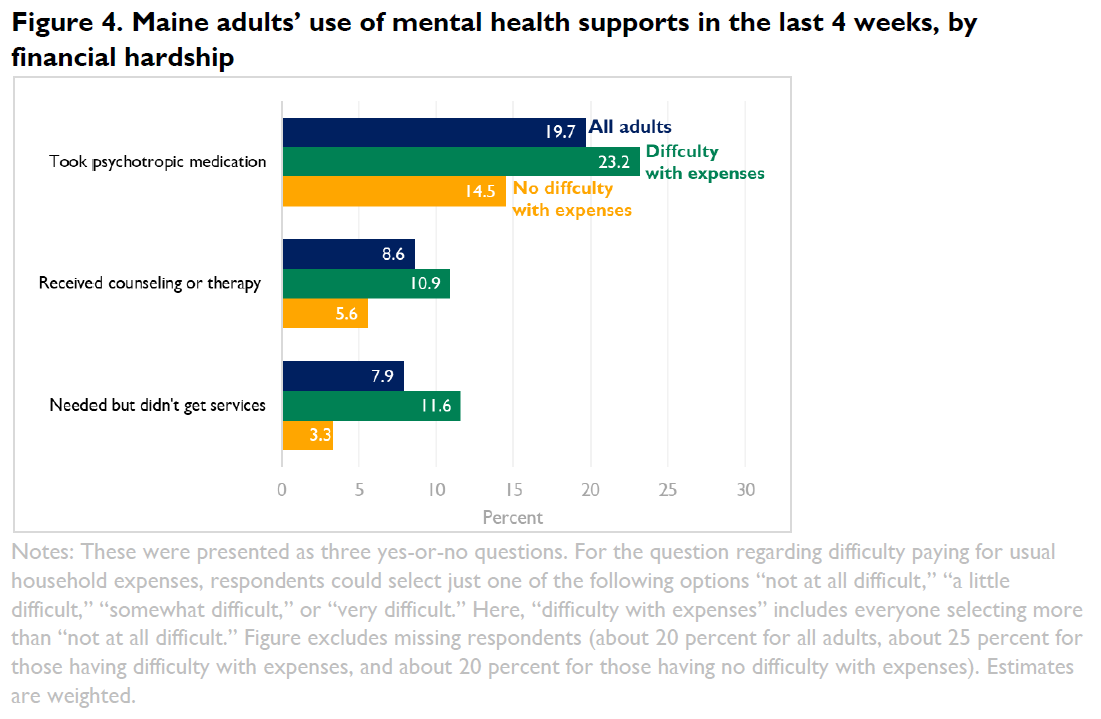 Conclusion
Despite improvements in caseloads, deaths, the labor market, and the rollout of effective vaccines, people are continuing to struggle with mental health issues in the pandemic. Over half of Maine adults have been experiencing feelings of anxiety and more than two-in-five have been dealing with depressive symptoms. While it is clear that the prevalence of mental health symptoms continues to be elevated, some Mainers have fared better on average than other groups. For instance, working age adults (age 18-64) were more likely to report symptoms of anxiety and depression than their older counterparts (age 65 or older). Mainers facing financial hardship were also more likely to report mental health struggles than were more financially secure adults. In general, the share of adults accessing formal mental health supports remains much lower than the share experiencing symptoms. Only one-in-five Maine adults took psychotropic medication and less than one-in-ten received counseling or therapy services in the last four weeks. Although usage of mental health services was slightly higher among working age adults and financially insecure adults, the shares reporting that they needed but did not receive services were higher too.
Even beyond the analytic groupings possible here, the distribution of the pandemic's infections, deaths, and economic losses, reinforces the possibility that mental health struggles and access to supports services are likely to be uneven among Mainers. Relief efforts should acknowledge the breadth of emergent mental health needs, including tracking recovery as the pandemic wanes, while also providing urgent and targeted supports in the interim. As an example, adults struggling with household expenses are likely not just resource-poor, but time-poor too, making proximity to community-based mental health supports important. Telehealth may increase access to mental health services for some with time or transportation barriers, but isn't a panacea, given differences in broadband access, technology literacy, income, and existing connection to mental health services.
Beyond access, affordability plays a critical role in mental health support delivery too. These increased mental health needs come at a time when Maine is still down 29,000 jobs from February 2020 levels.5 Although high-quality data do not yet exist, the number of Mainers who no longer have access to employer-sponsored health insurance to offset the cost of mental health supports is undoubtedly higher than pre-pandemic. For those who are eligible, MaineCare participants can access some mental health supports, and according to Pine Tree Legal,6 most people should be able to retain MaineCare enrollment while the state of emergency is in place (most recent extension effective through June 12).7 However, as that proclamation is eventually allowed to expire and the federal flows of COVID-specific support wane, new strategies for keeping people connected to services will be needed.
About the Data
The U.S. Census Bureau created the Household Pulse Survey (HPS) as an experimental data product to collect timely data on household experiences during the pandemic. Phase 1 of the HPS began April 23, 2020 and continued weekly through July 21, for a total of 12 weeks. Phase 2 ran from August 19 to October 26 and is followed by a Phase 3 from October 28 to March 29, 2021. Phase 3.1 recently begun on April 14, 2021. Rather than being weekly, each Phase 2, Phase 3, and Phase 3.1 release covers two weeks of data collection, although each release is still referred to as a numbered "week" to remain consistent with Phase 1. For example, the available "weeks" of Phases 2, 3, and 3.1 included in this this data glimpse are Week 13 – Week 28 (covering August 19, 2020 – April 26, 2021). The four mental health questions used here are a modified version of the two-item Patient Health Questionnaire (PHQ-2) and the two-item Generalized Anxiety Disorder (GAD-2) scale (see https://www.cdc.gov/nchs/covid19/pulse/mental-health.htm). Modifications include a reference period of 7 days instead of the typical 14 days. Since respondents were asked about their personal mental health and use of mental health services (rather than about the entire household), this analysis used person weights and replicate weights.
Footnotes
1 Note that each of the four questions about mental health in the past week went unanswered by about 18 percent of the sample. Given the personal and often stigmatized nature of mental health, this is not uncommon but worth noting since there are systematic differences between those who did and did not answer the question. Those who did not answer one or more of these questions skewed towards being slightly less educated, more likely Hispanic/Latinx, more likely Black, more likely Asian, and more likely to be "any other race alone, or race in combination" than the full sample of Maine adults. Additionally, the vast majority of Maine adults who did not answer one or more of the mental health questions also did not answer the question regarding household income.
2 The January-June 2019 NHIS is the recommended pre-pandemic benchmark comparison for the mental health questions in the Household Pulse Survey. See https://www.cdc.gov/nchs/covid19/pulse/mental-health.htm
3 Exact question wording is: "In the last 7 days, how difficult has it been for your household to pay for usual household expenses, including but not limited to food, rent or mortgage, car payments, medical expenses, student loans, and so on? Select only one answer."
4 As with the other mental health questions, those who did not answer these questions skewed towards being less educated, more likely Hispanic/Latinx, more likely Black, more likely Asian, and more likely to be "any other race alone, or race in combination" than the full sample of Maine adults.
5 See https://carsey.unh.edu/COVID-19-Economic-Impact-By-State for up-to-date analysis of job losses by state.
6 https://www.ptla.org/maine-public-benefits-covid-19-faq
7 https://www.maine.gov/governor/mills/sites/maine.gov.governor.mills/files/inline-files/SOE%2016%20May.pdf