Analysis from Jessica Carson, Ph.D. and Sarah Boege at Carsey School of Public Policy at the University of New Hampshire and commissioned by the John T. Gorman Foundation.
This Data Glimpse utilizes new data on COVID-19 vaccination from Phase 3 of the U.S. Census Bureau Household Pulse Survey for the U.S., New England, Northern New England, and Maine. Newly available weeks of data now allow sufficient sample sizes for state-level estimates. These data were collected from January 6 to March 29, 2021 and provide timely insight on vaccination intentions.
Most Unvaccinated Adults—in Maine and Elsewhere—Plan to Get a Shot
By the end of March, one-quarter of adults had already received at least one dose of a COVID-19 vaccine, similar to rates across New England, Northern New England and Maine. Those who had not received a COVID-19 vaccine—that is, the remaining three-quarters of adults—reported on their vaccination intentions (see Figure 1). Nearly 60 percent of unvaccinated Maine adults reported that they would "definitely get a vaccine" when it became available to them, higher than national share, but slightly lower than in New England (63.5 percent) or Northern New England (61.5 percent). Another 18.3 percent of adult Mainers said that they would "probably get a vaccine."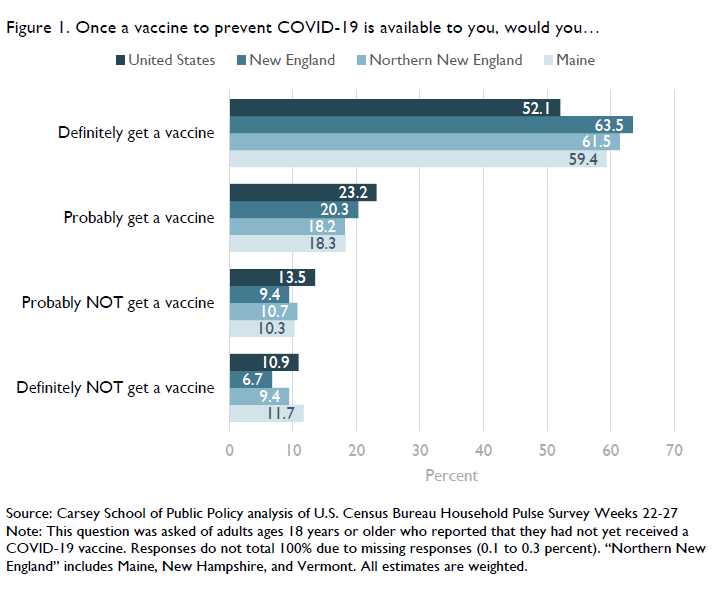 One-Fifth of Unvaccinated Mainers Don't Plan to Be Vaccinated
Despite generally high intent to be vaccinated, more than one-in-five unvaccinated Maine adults said they would "probably not" or "definitely not" get a vaccine when available. This reflects a slightly higher level of vaccine hesitancy than across New England or Northern New England, although lower than nationwide.
Out of the New England states, Maine has the highest share of unvaccinated adults not planning to get a vaccine, although the gap is not large (see Figure 2). Massachusetts has highest vaccine commitment, with the largest share of unvaccinated adults reporting they will "definitely" get a vaccine and the lowest share saying that they "probably" or "definitely" will not.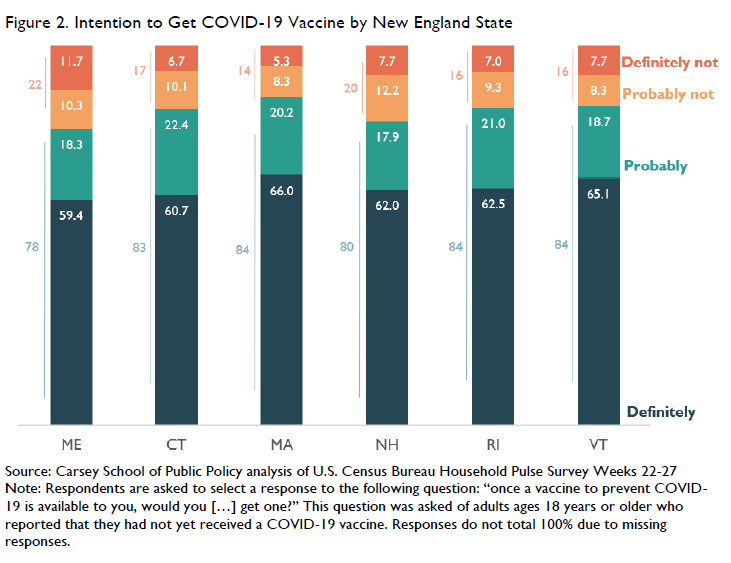 Variation in Who Plans to Get Vaccinated
These data allow analysis of vaccine intentions by demographics in Northern New England and show that just 10 percent of unvaccinated older adults reported that they are "definitely" or "probably" not getting the vaccine (see Figure 3). Vaccine hesitancy is higher among unvaccinated working age adults (18-64 years), at nearly one-quarter. While sample sizes preclude much demographic analysis at the state level, analysis suggests the age-based division holds true in Maine too.
Vaccination intentions in Northern New England also varied by educational attainment, with more educated people being more willing to get vaccinated. Plans to get vaccinated did not vary substantially by gender.1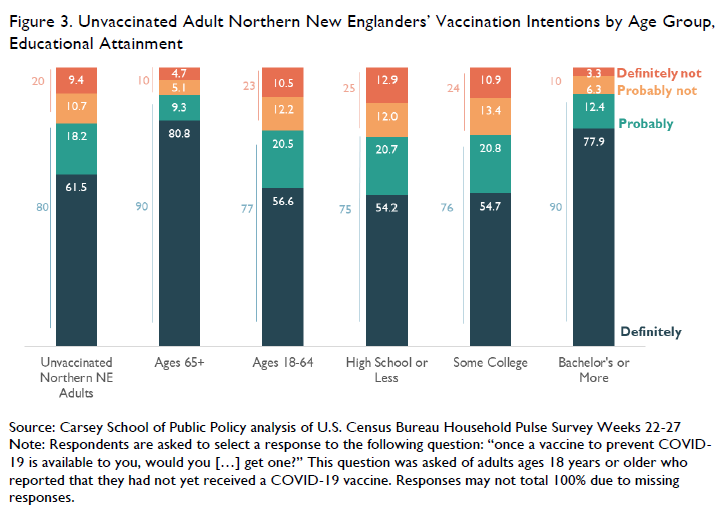 Adults with Higher Household Income More Willing to Get Vaccinated
New England-wide, sample sizes also permit examination of vaccine intentions by reported household income (Figure 4). In short, unvaccinated New England adults with lower household income levels are less willing to be vaccinated than those with higher household income.
Reasons for Vaccine Hesitancy in Northern New England
Unvaccinated respondents who reported any uncertainty—that is, who did not "definitely" plan to get a vaccine"—were asked a follow-up question about their reasoning. Respondents were provided a list of eleven options and asked to select all applicable reasons for why they might not get a COVID-19 vaccine (Table 1).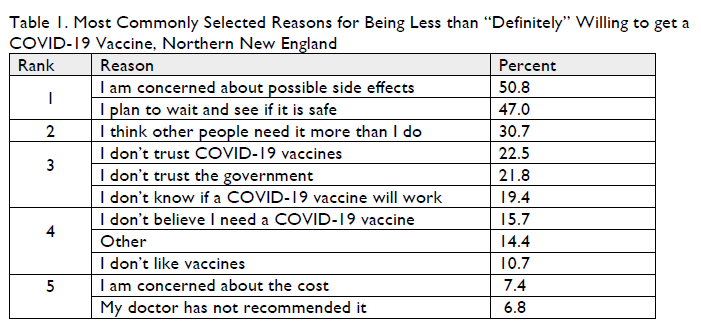 The top reasons given for vaccine hesitancy were concerns about possible side effects and safety. Other common reasons were that "I think other people need it more than I do" and "I don't trust COVID-19 vaccines." As vaccine supplies have stabilized, it is important that messaging makes it clear that getting a vaccine does not deprive others. Further, messaging should be clear that even those not at high risk of serious disease from COVID-19 ought to get vaccinated to protect themselves and others. The least common reasons were concern about the cost and that "my doctor has not recommended it." These responses can inform vaccine information and messaging, as cost is not perceived by many as an issue, while there is much more concern about side effects, safety, and general mistrust of COVID-19 vaccines.
Conclusion
Nearly four-in-five unvaccinated adult Mainers report that they intend to get a vaccine when eligible. However, the other 22 percent do not plan to be vaccinated, a slightly higher share compared to other New England states. This share, paired with Maine's population under age 16 who do not yet have an approved vaccine option, could result in a considerable group of Mainers remaining unvaccinated in the coming months. This analysis shows that younger and less educated populations are expressing the greatest hesitancy, and specifically, that trust-related issues around safety and side effects are driving this hesitation. Targeted and concerted efforts to address fears around safety could increase vaccine uptake, particularly through public health campaigns or health care providers themselves, as the American Medical Association notes.2
However, it should not be overlooked that one-in-seven unvaccinated adults in Northern New England reported some "other" reason for not getting a vaccine. Practical concerns like access to high-speed internet for scheduling an appointment, reliable transportation for visiting a clinic, and evening or overnight vaccination slots to accommodate inflexible work schedules may be identifiable barriers for people who would otherwise like to get a vaccine but don't see how it's logistically possible. For those who are on the fence about getting a vaccine, any logistical difficulty may influence their decision. In these cases, leveraging community networks and trusted partners to connect directly with unvaccinated Mainers, identifying and addressing practical concerns could also shift uptake rates.
About the Data
The U.S. Census Bureau created the Household Pulse Survey (HPS) as an experimental data product to collect timely data on household experiences during the pandemic. Phase 1 of the HPS began April 23, 2020 and continued weekly through July 21, for a total of 12 weeks. Phase 2 ran from August 19 to October 26 and is followed by a Phase 3 from October 28 to March 1, 2021. Rather than being weekly, each Phase 2 and Phase 3 release now covers two weeks of data collection, although each release is still referred to as a numbered "week" to remain consistent with Phase 1. For example, the available "weeks" of Phase 3 included in this this data glimpse are Week 22 – Week 27 (covering January 6 – March 29, 2021). The survey instrument has been revised over time to be responsive to the changing pandemic, with the most recent revision implemented as of January 6, 2021. Important to this Data Glimpse, questions were added regarding COVID-19 vaccination. Since respondents were asked about their personal vaccination status and opinions (rather than about the entire household), this analysis used person weights and replicate weights.
1  As measured in the Household Pulse Survey, where respondents answer "Are you…" by selecting either 1) Male or 2) Female. Note that analysis by race/ethnicity was not possible at the Northern New England or New England levels
2 See https://www.ama-assn.org/delivering-care/public-health/covid-19-vaccine-hesitancy-10-tips-talking-patients