Analysis from Jessica Carson, Ph.D. and Sarah Boege at Carsey School of Public Policy at the University of New Hampshire and commissioned by the John T. Gorman Foundation.
This Data Glimpse describes Maine's unemployment situation in 2020, drawing on the finalized annual average unemployment data released by the U.S. Bureau of Labor Statistics (BLS) on March 3, 2021. While the BLS releases preliminary labor force statistics monthly, annual revisions are released once a year with updated monthly estimates and annual averages for each state and region.1
Annual Average Unemployment Rates
Maine had the lowest 2020 annual average unemployment rate among New England states at 5.4 percent (see Table 1). Nationally, Maine had the sixth-lowest 2020 unemployment rate of all 50 states and the District of Columbia. As a region, New England fared worse than Maine alone. New England's 2020 unemployment rate of 8 percent is comparable to the national rate.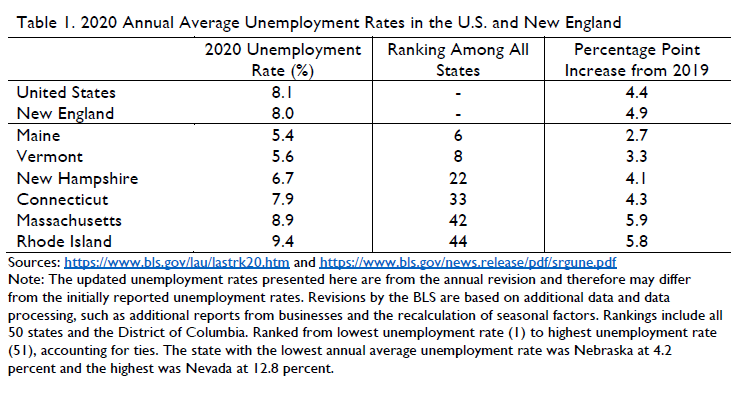 Although Maine fared well compared with other states, the state's 2020 unemployment rate was still double its 2019 rate of 2.7 percent. This also marks the first time annual unemployment rose since the end of the Great Recession (Figure 1).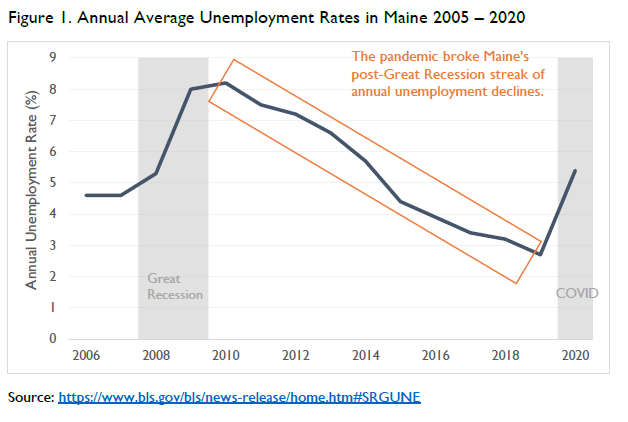 Monthly Unemployment Rates
In 2020, monthly unemployment rates were characterized by a massive spike from March to April following the state lockdowns in response to the coronavirus pandemic (Figure 2). Nationally and in New England, unemployment rates slowly declined after the peak in April and leveled out in October, although unemployment rates were still relatively high. By the end of the year, unemployment rates in the U.S. and New England were each about double their rates from the start of the year.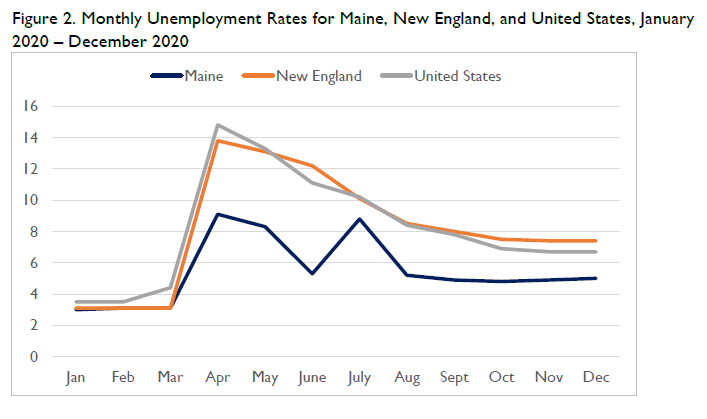 Although Maine also had a sharp unemployment increase in April, the state did not experience the smoothly declining rates of the region, instead experiencing a second spike in July. This spike, driven by substantial job losses in Maine's Manufacturing sector related to a shipbuilders' strike in Bath, was quickly resolved, and by August, rates had leveled out to near 5 percent for the rest of the year. Maine's April and summer unemployment spikes were echoed in other New England states, and although Maine's annual average was especially low, both New Hampshire and Vermont finished the year with lower December unemployment rates than Maine.
Initial Unemployment Insurance Claims
Initial unemployment insurance (UI) claims indicate the number of people who file new claims for unemployment in each week. Tracking with the monthly unemployment rate, Maine's initial UI claims spiked in spring 2020—peaking at 63,828 claims in April. In the following months, the number of UI claims fell again, although never quite reaching pre-pandemic numbers. Notably, the July spike in Maine's unemployment rate was not reflected in initial UI claims; perhaps the people newly unemployed then were ineligible or not interested in filing claims. Also diverging from monthly unemployment rates, initial UI claims began climbing again in October, and continued to rise through January 2021. While it is not evident why unemployment rates did not rise accordingly, it is possible that Mainers previously unemployed dropped out of the labor force, and newly unemployed people slipped into the unemployed pool in their stead, keeping the official rate at a relatively constant level. Regardless, rising UI claims suggests that for Maine families, UI benefit enhancements remain relevant in 2021.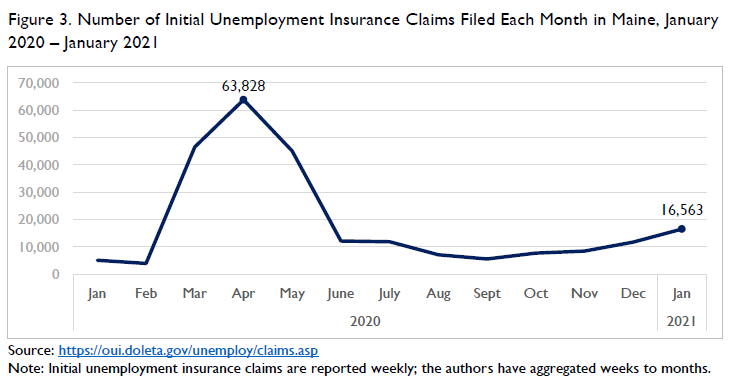 Conclusion
These revised and annualized data confirm several key factors about how pandemic-related joblessness has played out for Mainers. First, unemployment was wildly uneven across the year. Second, even amid significant recovery, Maine's workforce is not uniformly prospering. The state's unemployment rate is still higher than it has been in a decade, and twice what it was at this time last year. Initial unemployment claims filed—an indicator of new job loss—have been rising since October, with more Mainers filing new claims in January 2021 than in June or July of 2020.
As a result, unemployment supports, like the enhanced unemployment insurance benefits extended under the American Rescue Plan are critical for many Maine families. Importantly, the Plan also introduced a new tax waiver on the first $10,200 in unemployment benefits received by an individual—or a combined $20,400 for joint-filing married couples who both received unemployment benefits—with adjusted gross income under $150,000 in 2020. While available data on Maine income in 2020 is not especially reliable, even in the more prosperous preceding period (2015-2019), 89 percent of Maine families with at least one working age adult reported earnings below this level, suggesting that this tax break could be wide reaching. Finally, additional supports targeted to low- and moderate-income families, like the expanded Child Tax Credit and nutrition supports, will also serve to fill gaps that the pandemic-era job market has wrought for Maine families' budgets.
About the Data
This Data Glimpse draws on recent data from the Regional and State Unemployment 2020 Annual Averages report from the U.S. Bureau of Labor Statistics (BLS). The BLS produces a variety of labor force statistics that were not discussed here, such as employment-to-population ratios, number of jobs by sector, and employment by sector. Additional statistics and visualizations, including for the nation and each state are available through the related Carsey School of Public Policy publication.
1 For more information on annual revisions, see the Technical Note on page 10 of the Regional and State Unemployment – 2020 Annual Averages release: https://www.bls.gov/news.release/pdf/srgune.pdf