Analysis from Jessica Carson, Ph.D. and Sarah Boege at Carsey School of Public Policy at the University of New Hampshire and commissioned by the John T. Gorman Foundation.
This Data Glimpse focuses on employment data from Phases 2 and 3 of the U.S. Census Bureau Household Pulse Survey. Collected from mid-August to early November 2020, these data provide insights on Maine households' work situations during the pandemic.
Employment Changes among Maine Households During the Pandemic
Adults ages 18 years or older were asked about employment changes among all members of their household since March 13, 2020. Almost two-in-five Maine households—38 percent— reported someone in their household lost employment income since March 13, 2020 (Figure 1).1 Another 17 percent expect that someone in the household will lose employment income in the next four weeks due to the pandemic, a share that is disproportionately clustered among
people not reporting telework. This illustrates the intense uncertainty facing workers still, particularly those not able to telework. Many workers who did not lose their job or income have experienced other pandemic-related disruptions and changes. Almost a third of Maine households —30.0 percent—had at least one adult substitute some or all of their typical in-person work for telework due to the pandemic.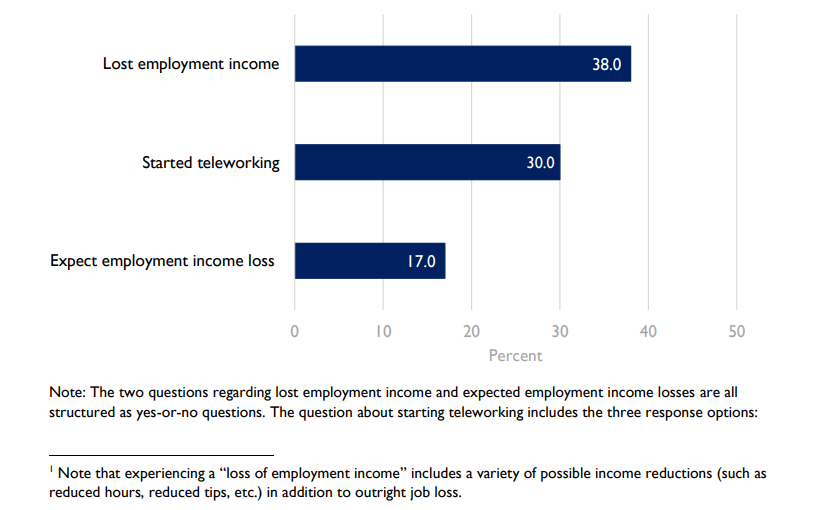 With income losses so high, a federal relief package still unconfirmed, and a fresh wave of COVID-19 cases enveloping the nation, Maine families are positioned for a difficult winter. As is persistently the case, challenges are likely to be disproportionately concentrated among those with the fewest resources available to buffer losses, including low-wage workers, workers with enduring unemployment, and workers with caregiving responsibilities. In the coming weeks and months, adherence to public health measures that reduce caseloads and keep schools open and businesses in operation will be key to stemming employment income losses. Federal efforts to pass legislation that supports individuals, communities, and social services can help keep workers afloat as vaccines slowly become available. This is particularly critical as many current relief programs will end December 2020 and without extension more people will lose employment income, not have access to enhanced unemployment insurance benefits, and face other hardships.
About the Data
The U.S. Census Bureau created the Household Pulse Survey (HPS) as an experimental data product to collect timely data on household experiences during the pandemic. Phase 1 of the HPS began April 23, 2020 and continued weekly through July 21, for a total of 12 weeks. In order to keep the HPS relevant and specific, a Phase 2 was developed to run from August 19 – October 26, now slated to run into a Phase 3 from October 28 – December 21, 2020. Rather than being disseminated weekly, each Phase 2 and Phase 3 release covers two weeks of data collection, although each release is still referred to as a numbered "week" to remain consistent with Phase 1. For example, the "weeks" of Phase 2 included in this this data glimpse are Week 13 (covering August 19 – 31), Week 14 (covering September 2 – 14), Week 15 (September 16 – 28), Week 16 (September 30 – October 12), and Week 17 (October 14 – October 26). The first available week of Phase 3, Week 18 (October 28 – November 9) is also included. Critical in facilitating this analysis, the Phase 2 and Phase 3 sample design results in more usable independent samples where each household is only interviewed once (unlike Phase 1 where households could be interviewed multiple times and appear in more than one week).2 Since these employment and work questions were asked about all household members, this analysis used household weights and replicate weights.