Analysis from Jessica Carson, Ph.D. and Sarah Boege at Carsey School of Public Policy at the University of New Hampshire and commissioned by the John T. Gorman Foundation.
This Data Glimpse focuses on education data from Phase 2 of the U.S. Census Bureau Household Pulse Survey. Collected from mid-August to mid-September 2020, these data provide new insights on remote learning at the beginning of the 2020-2021 school year. Since sample sizes are insufficient to examine Maine alone, this Data Glimpse will focus on New England.
Education & Remote Learning in New England
Respondents in households with one or more children enrolled in school were asked how the pandemic has affected the children's schooling for the 2020-2021 school year (Figure 1). Nearly two-thirds (64.6 percent) reported that classes normally taught in person had moved to a distance-learning format using online resources, either self-paced or in real time. The prevalence of this modality underscores the importance of household access to broadband and digital devices. One-quarter of households reported that classes were canceled, although most of these respondents selected multiple options, suggesting that some substitution was made for the canceled classes.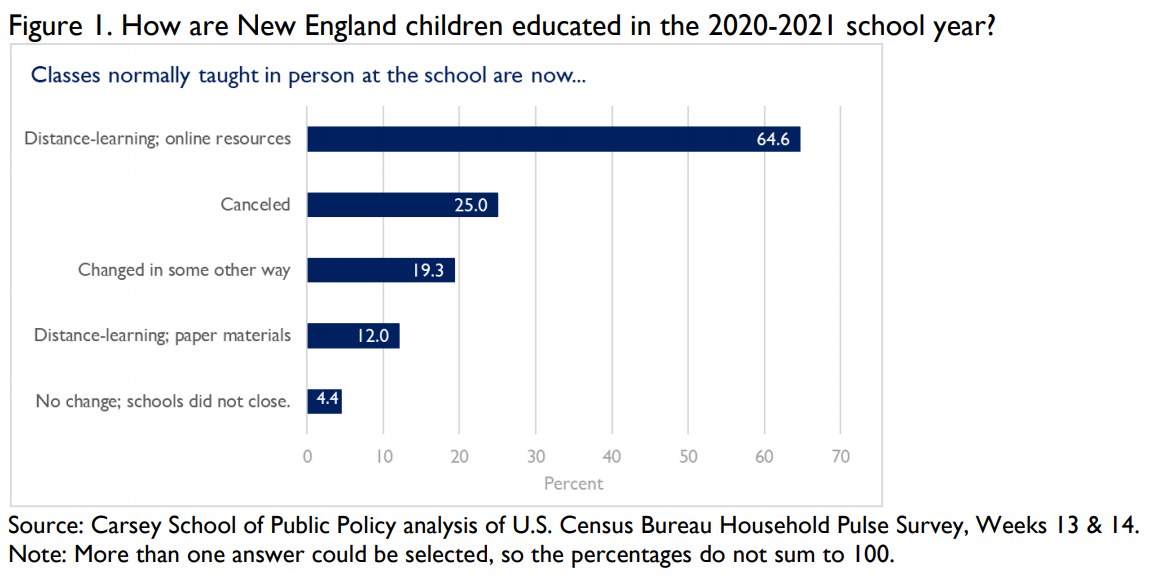 Computer and Internet Access among New England Schoolchildren Almost three quarters (72.2 percent) of households with school-enrolled children indicated that a computer or other digital device is "always available" to children for educational purposes (Figure 2). However, that means one-quarter of households with children in school do not always have a computer available to children. In a substantial share of households (16.6 percent) a computer or device is "usually available," and about one percent said a device was "never available."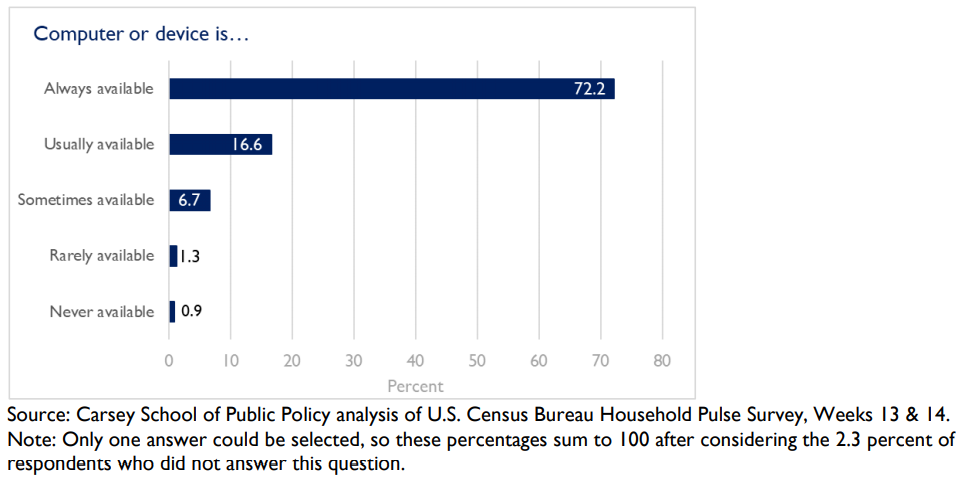 Those who reported that a computer or other digital device was ever available were asked about the provider of the device (Figure 3). Note that households could select as many categories as were applicable. Two-thirds (66.9 percent) said that the device was provided by someone in the household or family, or it belonged to the child. Schools are important providers too: in half of these households, the child's school or school district had provided the computer or device for use outside of school. Only 1.5 percent noted that the computer or device was provided by another unnamed source, possibly a charitable source, a library, or a family friend. These data indicate that schools and school districts are playing a significant role in providing students with computers or other devices to facilitate remote learning, although it is yet unclear whether distribution of devices is well-matched to need.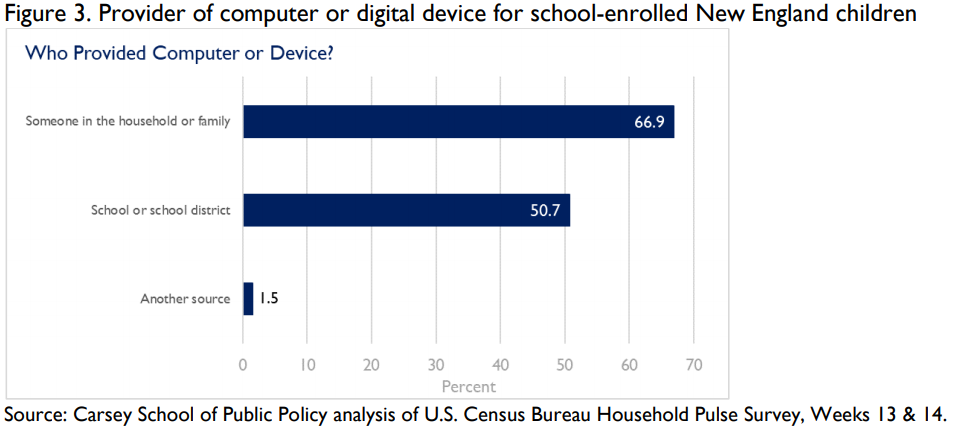 Reports of internet availability for children in New England aligns with those of computer availability. Nearly three quarters (74.5 percent) of respondents reported that internet is "always available" to children in the household for educational purposes, leaving 25 percent of households without internet reliably available to children in the household. This 25 percent includes 1.5 percent for whom internet is rarely or never available to children. Although schools and school districts have been important providers of computers and digital devices, schools rarely pay for internet service (Figure 4). Only 1.7 percent of respondents with available internet said that the school or school district had paid for the service, while 93.9 percent reported that the household made those payments.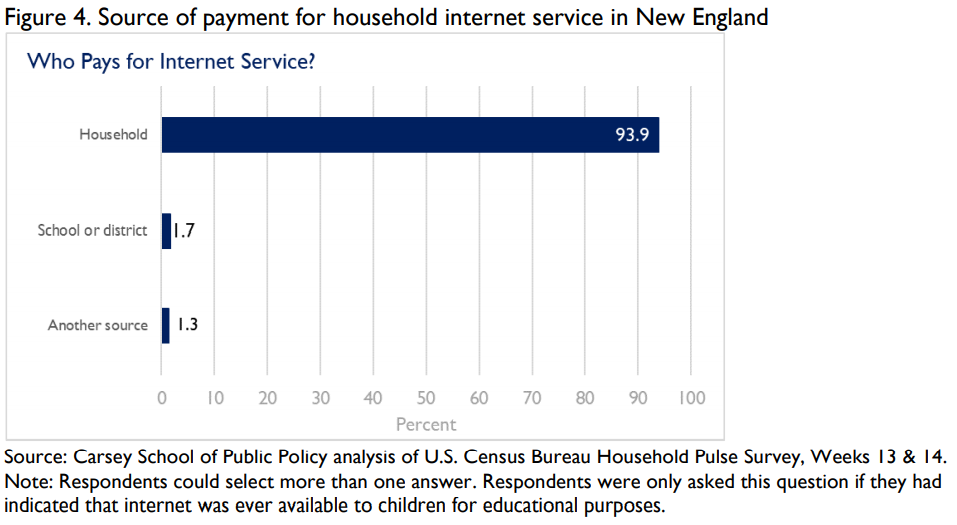 Contact with Teachers and Time Spent on Teaching Activities in New England Data from these two collection periods indicate that two-thirds of households report their children hadn't interacted online with a teacher in real-time in the previous seven days (either by phone or video). However, because the data were collected in August and early September, it is possible that classes hadn't yet begun, so reliable analysis is premature. Ongoing data collection through this survey will reveal virtual engagement levels in the coming weeks or months.
Households are also asked about the amount of time children spent on learning activities over the last week relative to a typical school day before the coronavirus pandemic. Just over half of households estimated that their children were spending much less time than they would during a pre-pandemic school day. However, these data may be similarly skewed by the data collection period, as not all schools had started by early September. Analysis of future weeks may yield insights on how time spent on learning activities during the 2020-2021 school year compares to a pre-pandemic school day.
Conclusion
These data provide a snapshot of education and remote learning in New England at the start of the 2020-2021 school year. Most New England children and their families have had to adapt to new educational formats, with over half involving the use of online resources. While most households with children indicate that they always have access to a computer and the internet, one-quarter are left without consistent and reliable access to one or both. Schools and school districts seem to be playing an important role in providing computers and other digital devices to students, although households are largely left to pay for internet services themselves. These findings suggest that there are opportunities both to support schools' ongoing efforts to provide students with digital devices and to step in where schools have not been able to support families with internet access.
While data on virtual student contact with teachers and time spent on learning activities are preliminary, as data collection continues, these topics will be worth exploring further. For example, if data continue to show that high shares of households report that their children have not had virtual contact with teachers in the last week, it may indicate that teachers need additional administrative or technical support to facilitate connections with students. Conversely, some students may be disengaged due to limited technology access or atypical schedules, especially if multiple family members are sharing one computer or device. In these cases, connecting students with additional devices, socially distant in-person workspaces, or charitably-funded virtual tutors s may be better ways to bolster engagement.
About the Data
The U.S. Census Bureau created the Household Pulse Survey (HPS) as an experimental data product to collect timely data on household experiences during the pandemic. Phase 1 of the HPS began April 23, 2020 and continued weekly through July 21, for a total of 12 weeks. In order to keep the HPS relevant and specific as the pandemic wears on, a Phase 2 was developed to run from August 19 to October 26. Rather than weekly, each Phase 2 release now covers two weeks of data collection, although each release is still referred to as a numbered "week" to remain consistent with Phase 1. For example, the available "weeks" of Phase 2 included in this this data glimpse are Week 13 (covering August 19 – August 31) and Week 14 (covering September 2 – September 14). Critical in facilitating this analysis, the Phase 2 sample design results in a larger number of independent cases across weeks, as households are interviewed only once, unlike in Phase 1.1 (Independence of cases is an assumption of many statistical analyses). The survey questionnaire was also updated for Phase 2. Important here, the education-related questions in Phase 2 now ask about household experiences during the 2020- 2021 school year rather than in the spring of 2020, as was referenced in Phase 1 questions.
Note that the way the survey is structured, adults ages 18 and over answer questions about their household. The analysis presented in this Data Glimpse is at the household level (using household weights and replicate weights) and includes households with children enrolled in either public school, private school, or homeschooled during the 2020-2021 school year.
1 For more details on sample design, see: https://www2.census.gov/programs-surveys/demo/technicaldocumentation/hhp/Phase2_Source_and_Accuracy-Week%2013.pdf