Analysis from Jessica Carson, Ph.D., Carsey School of Public Policy at the University of New Hampshire and commissioned by the John T. Gorman Foundation
This report provides updates on Maine's unemployment situation through mid-June, drawing on new data published by the Bureau of Labor Statistics on June 19, 2020.
Initial Unemployment Insurance Claims by Week
Maine's unemployment claims have been made public regularly and are provided in Figure 1 for context. Initial unemployment insurance claims indicate the number of people who newly file for unemployment during a given week and show changes in the labor market earlier than official unemployment statistics become available. The peak over this ten-week period is still the week ending on April 4, 2020, with 30,910 unemployment insurance claims in Maine. Since this peak, the number of claims has been generally decreasing again, with the exception of a smaller spike at the end of May. The weeks ending on May 23 and May 30 saw increases up to 16,667 and 11,151 initial unemployment insurance claims, respectively. Since initial unemployment insurance claims are an imprecise indicator, it is difficult to know if this smaller spike can be attributed to a change in the labor market or to local administrative factors. The number of claims has fallen again in early June, with the most recent week ending on June 13 reporting 3,013 claims.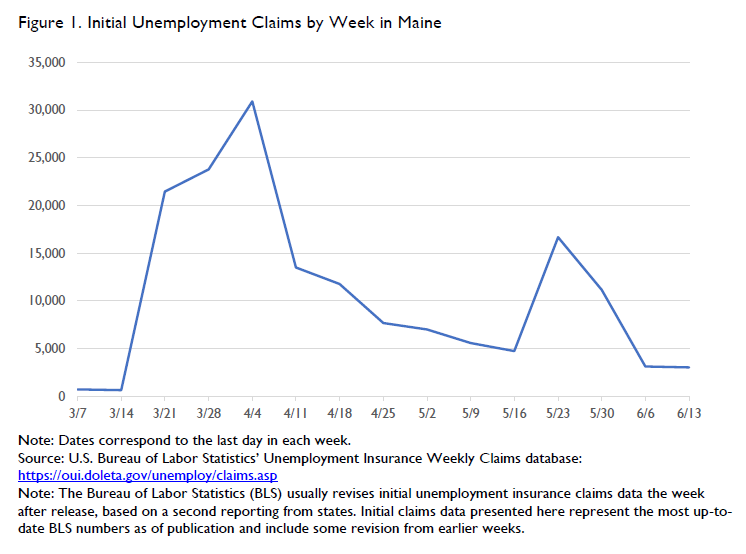 Figure 2 compares Maine with New England and the United States over this same ten-week period; to facilitate comparison, the graph shows weekly claims as a share of the total February 2020 labor force in each region. The February 2020 labor force is used as an estimate of the "usual" labor force, pre-pandemic. Maine's trend downward after peaking in early April is similar to trends also seen in New England and the United States. However, while Maine saw another uptick in claims at the end of May, when nearly 2.5 percent of the Maine labor force applied for unemployment insurance, the number of claims continued to steadily decrease in New England overall and the United States. Despite the reduction in new initial unemployment claims in recent weeks, the total number of initial claims filed in Maine since March 8 is a massive 177,699 or 25.8 percent of the February labor force.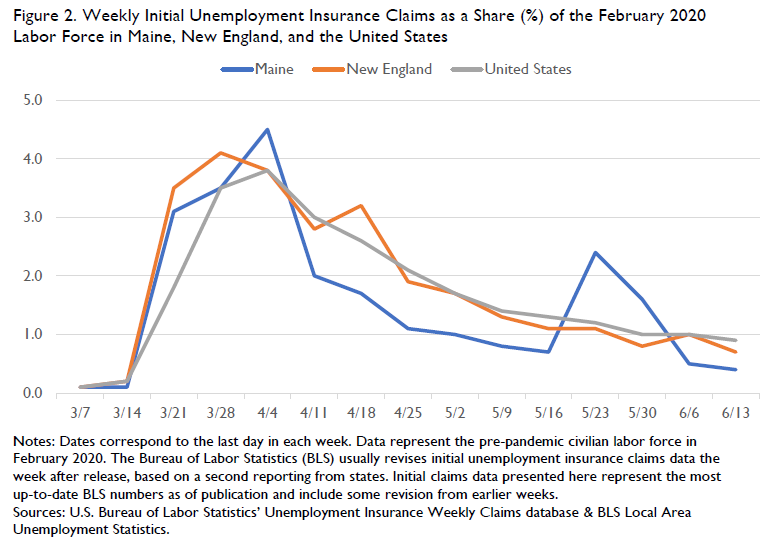 Unemployment Rate
Across the United States unemployment rates soared in April 2020 to levels not seen in modern times. Fortunately, the May 2020 unemployment rates for Maine, New England, and the United States are all slightly lower than they were in April (as shown in Figure 3). It is far too early to label this change as the beginning of an economic recovery, but it is still a positive sign.
Maine's unemployment rate decreased from 10.4 percent in April to 9.3 percent in May. Although an improvement, it is still triple Maine's January unemployment rate (3.1 percent). For the first time in 2020, New England has a slightly higher unemployment rate than the United States (13.7 percent compared to 13.3 percent).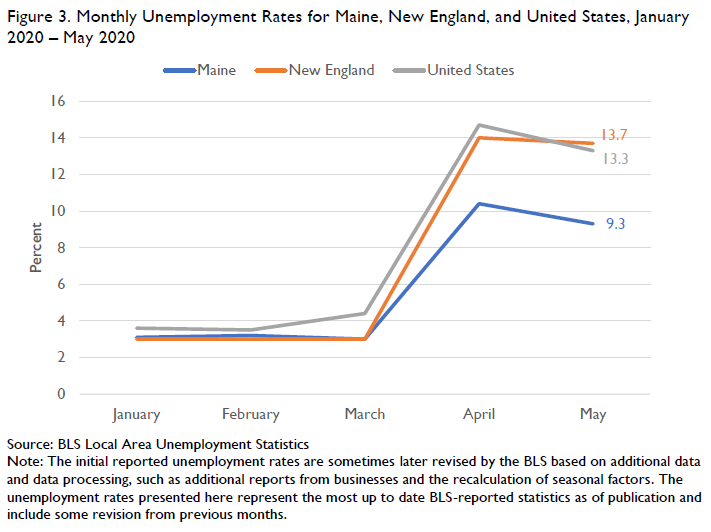 Figure 4 (below) shows more detail for each New England state between March and May. Unemployment rates dropped in Maine, Vermont, New Hampshire, and Rhode Island from April to May, while Connecticut and Massachusetts experienced slight increases over this same period. Notably, at 9.3 percent Maine has the lowest unemployment rate in New England in May 2020. The two New England states with the highest unemployment rates in May are Massachusetts and Rhode Island, both with a rate of 16.3 percent. States have been impacted differently for a variety of reasons, including characteristics such as industry mix and proximity to larger cities (for example, Boston in Massachusetts and New York City for Connecticut). Despite slight increases or decreases from April to May, unemployment rates remain much higher across New England than pre-pandemic.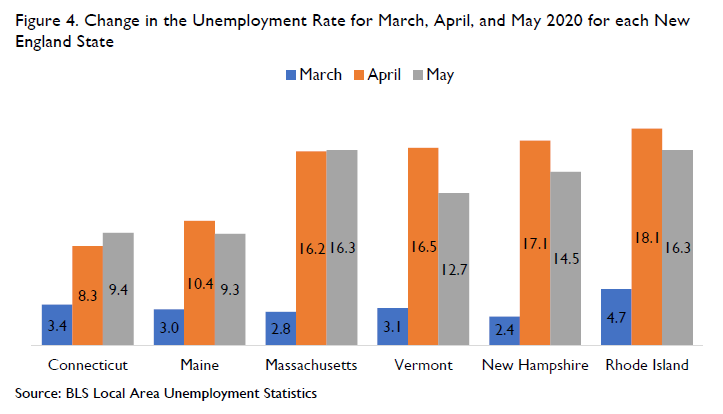 Change in Number of Jobs by Sector
This section describes job losses by sector, using the BLS's Current Employment Statistics program, a monthly survey of businesses and government agencies that collects data on payroll employment, hours, and earnings. The change in the estimated number of jobs by sector from April 2020 to May 2020 gives a sense of which industries are being hardest hit, which are recovering, and which are remaining less affected.
In April, no sector gained jobs, either nationally or in Maine. However, the situation in May is largely characterized by job gains. Across all non-farm employment, the United States gained 2.5 million jobs, in all sectors except Government (more than 0.5 million jobs lost). Government employment includes federal, state, and local jobs. Local government job cuts overwhelmingly drove these losses, likely due to municipalities anticipating the pandemic's effects on government budgets. In May, Maine also gained jobs (14,300 since April), but gains were not realized across all sectors. Like the U.S., Maine's job losses were concentrated in the Government sector (down 4,100 jobs), however losses also occurred in Financial Activities (down 900 jobs) and Information (100 jobs).
In both the United States and Maine, job gains were led by the Leisure and Hospitality sector. The sector—which was the hardest hit in April—gained 1,239,000 jobs nationwide. Maine's job gains were also concentrated in Leisure and Hospitality, up 6,100 jobs between April and May. This is increase likely due to Maine and most other states beginning to reopen their economies in phases, allowing some Leisure and Hospitality workers to return to their jobs. For example, in May, Governor Mills allowed some retail stores and restaurants to provide in-store and dine-in services and also allowed private campgrounds to open for Memorial Day. It should be noted that, while these job gains are welcomed, neither the United States nor Maine are anywhere near back to the number of jobs that existed in February 2020.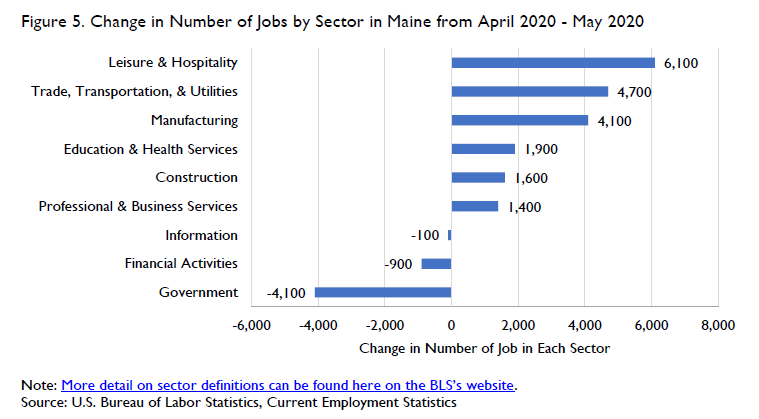 All New England states saw job gains in non-farm employment from April to May, although none have recovered to their February levels. All New England states reported modest job gains in the Leisure and Hospitality sector—previously the sector with the largest job losses across New England. The Leisure and Hospitality sector led job gains in Maine, Connecticut, New Hampshire, and Rhode Island. In Vermont, the Manufacturing sector had the highest job gains and in Massachusetts it was the Construction sector. New England job losses between April and May were concentrated in Government in each state except New Hampshire. Chart 1 in the full Carsey report has more detail on each state.
Conclusions
Although unemployment rates are still exceptionally high, the statistics for May are less bleak than the record-breaking job losses in April. Another welcome change in May is the net job gains realized in Maine, New England, and the nation. In New England, Maine has the lowest unemployment rate and continues to fare better than other harder-hit states like Massachusetts and Rhode Island.
May job gains in Maine and throughout New England were highest in lower-paid sectors that had previously seen huge job losses, like Leisure and Hospitality. These job gains are essential for supporting lower-wage workers who are the least likely to have the resources needed to sustain a long period of unemployment. Growth in these industries is likely to become especially important as pandemic-specific responses and resources wind down, including moratoriums on evictions and foreclosures and the Federal Pandemic Unemployment Compensation program (the additional $600 available to some individuals collecting unemployment compensation). However, recent increases in virus caseloads in some of the nation's largest states may trigger another wave of low-wage job loss as states respond to spiking infections with new shutdowns.
About the Data
Although national-level labor market statistics for May 2020 have been available for a few weeks, the U.S. Bureau of Labor Statistics (BLS) released statistics for all 50 states on June 19. This release includes unemployment insurance claims, unemployment rate, number of jobs by sector, and employment by sector. Additional statistics and visualizations, including for the nation and each state are available through the related Carsey School of Public Policy publication.