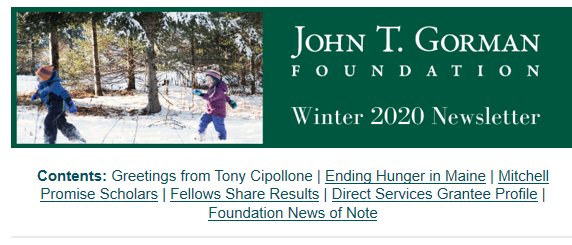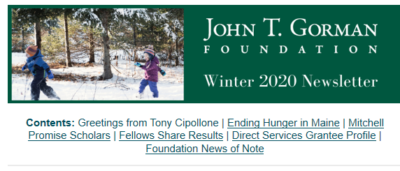 Dear Friend,
Monday, February 10, marked the 10th anniversary of our founder Tom Gorman's death. For the John T. Gorman Foundation's Board and staff, it is an apt time to both remember and celebrate Tom's remarkable generosity and his unflinching compassion for disadvantaged Mainers.
As a grandson of L.L. Bean and a lifelong resident of Yarmouth, Tom knew well that Mainers living on the margins did not enjoy the same advantages his supportive family and community provided to him. In his own quiet and unassuming way, Tom gave back, both in the form of volunteer service to the Yarmouth community, as well as financial support to organizations providing direct aid to those who needed help. He did so individually and, in later years, through the JTG Foundation, which he established in 1995.  With a dedicated group of talented Directors (some of whom remain on our Board today) over the next 15 years, Tom supported a range of causes and organizations that helped, among others, the elderly, the homeless, and those suffering from cancer and mental illness.
Unquestionably, Tom Gorman's most generous gift was his decision to leave the bulk of his estate to what today is the John T. Gorman Foundation. It is because of this extraordinary gesture that we can continue Tom's work in service to many of Maine's most vulnerable residents. All of us associated with the John T. Gorman Foundation take very seriously our mandate to use Tom's unique gift thoughtfully and responsibly – to be the best stewards we can be of not just his financial legacy but, as importantly, the spirit in which he wanted his resources used.  Tom Gorman wanted to make a difference for vulnerable people in Maine and over the course of the last decade, our Board and staff have tried to do our best to make good on that aspiration. All of us believe that the most meaningful compliment we can receive is when someone who knew Tom says to us, "Tom would have really liked the work that the Foundation is supporting." We hope we can continue to measure up to that standard in the days and years ahead.
In this, our Winter Newsletter, you can read about some of that work, including our John T. Gorman Fellowship, our support of the Mitchell Institute Promise Scholars, the Direct Services Grant Program, and the creative new approach that Good Shepherd Food Bank is taking to address the challenge of food insecurity in Maine.
Over the course of this year — the 25th anniversary of the John T. Gorman Foundation — we hope to share more about the Foundation's growth and evolution as we continue to celebrate Tom's contribution to disadvantaged Mainers. Please stay tuned. In the meantime, enjoy our newsletter and please contact us with your questions and comments.
-Tony Cipollone, President & CEO