—–John T. Gorman Foundation President Tony Cipollone and Chief Program Officer Nicole Witherbee attended today's signing ceremony, as the Foundation has pledged its support of this important partnership. Below is the Governor's Press Release.—-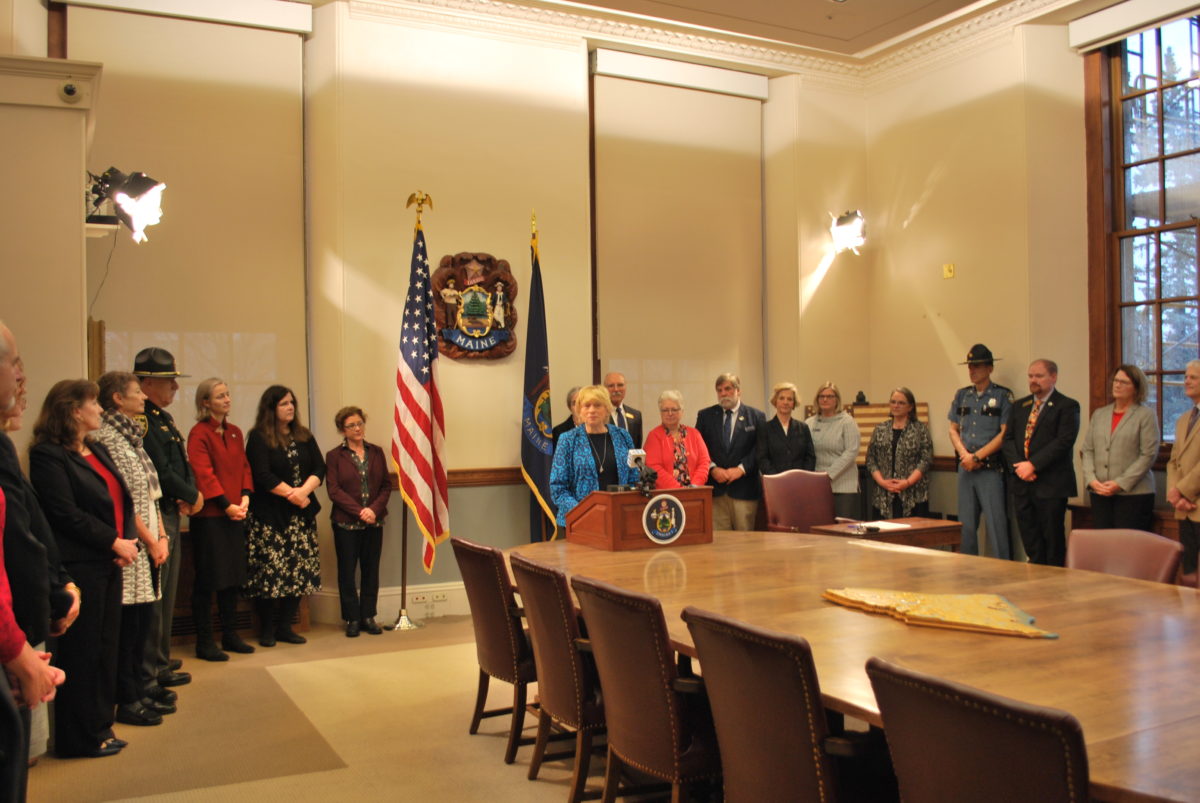 Joined by lawmakers, advocates for older Mainers, and other state government officials, Governor Janet Mills today signed an Executive Order establishing the Elder Justice Coordinating Partnership to combat elder abuse in Maine.
The Partnership – comprised of government officials from the Departments of Health and Human Services, Public Safety, and Professional and Financial Regulation as well as members of statewide aging and other advocacy organizations – aims to break down silos to coordinate a multi-agency and multi-sector response to elder abuse with the goals of: 1) identifying challenges to the prevention of, detection of, and response to elder abuse; 2) developing strategic priorities across the public and private sectors to prevent and respond to elder abuse; and 3) making recommendations regarding direct services, education, public policy, and data collection and evaluation, including legislative changes, if any. The Partnership will submit these recommendations in the form of a "Elder Justice Roadmap" to the Governor no later than December 8, 2021.
"The abuse of vulnerable people, especially our older citizens, is an insidious crime and has no place in Maine," said Governor Janet Mills. "Maine is an aging state, and it is crucial that we harness the collective power of state government and private organizations to develop a roadmap to protect them from abuse, neglect, and all forms of exploitation. I look forward to appointing members to the Elder Justice Coordinating Partnership and reviewing the Elder Justice Roadmap so that we can take action to protect older Mainers."
The Partnership was requested by Legal Services for the Elderly, the Elder Abuse Institute of Maine, the Long Term Care Ombudsman Program, the Maine Association of Area Agencies on Aging, the Maine Coalition Against Sexual Assault, and the Maine Coalition to End Domestic Violence. It comes at the request comes at a time when the U.S. Department of Justice estimates that one in nine people over the age of 60 will be abused or exploited every year, including an estimated 33,000 victims in Maine alone. That is in addition to a recent study that found between $10.5 million and $64 million in savings and assets are taken from older Mainers every year through financial exploitation.
"We all want Maine to be a safe place to grow old," said Jaye Martin, Executive Director of Legal Services for the Elderly. "This Executive Order moves us toward that goal. Legal Services for the Elderly applauds Governor Mills and her administration for taking this important step forward and looks forward to working with our partners on this important initiative."
The Partnership will meet at the discretion of the Co-Chairs, one of which will be from the private sector and the other of which will be from the public sector, who will be appointed by the Governor along with the rest of the membership. Membership will serve without compensation; however, the work of the Partnership will be supported by a grant from the John T. Gorman Foundation.
"Elder abuse and exploitation have presented cruel challenges to the wish of most Maine seniors to age in their homes and communities. In recent years, Legal Services for the Elderly and other organizations have done an exceptional job of raising awareness of elder abuse and offering assistance to its victims," said John T. Gorman Foundation President and CEO Tony Cipollone. "But to proactively identify and reach the thousands of Maine seniors who continue to be victimized, the state needs a coordinated plan with strong public-private partnerships. Our deep thanks to Governor Mills for signing this Executive Order and enlisting her Administration's assistance to launch this important planning process, which the John T. Gorman Foundation is proud to support."
As District Attorney and as Attorney General, Governor Mills prosecuted crimes against older Maine people and, in 2014, convened a Task Force of prosecutors, law enforcement, court officials and lawmakers to combat elder financial abuse in Maine that issued a report in 2015. Earlier this year, Governor Mills signed into law LD 566, "An Act to Protect Vulnerable Adults from Financial Exploitation", which requires certain professionals who suspect financial exploitation to report those concerns to Adult Protective Services and the Office of Securities.