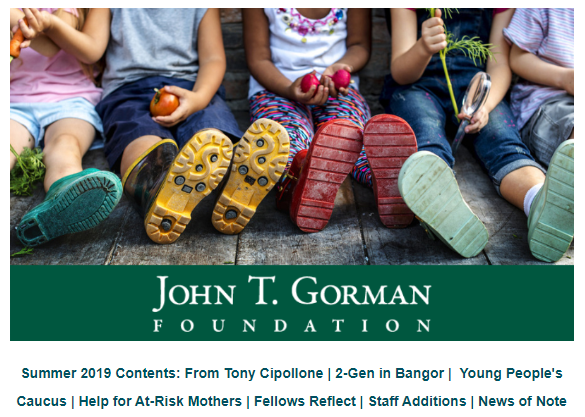 Dear Friend,
One of the core strategies of the John T. Gorman Foundation is to help advance Two-Generation work across Maine. Two-Generation strategies, which simultaneously provide opportunities and supports for parents and children in the same family, recognize that the success of children is inextricably tied to the success of their parents, and that if we want to make a difference in a child's future, one of the best things we can do is help their parents succeed today.
A fundamental tenet of Two-Gen work is engaging participants in program design–talking to parents about their family aspirations and challenges and creating strategies that can advance and address them. This approach, which puts family voice at the center, can go a long way toward creating initiatives that are relevant and successful for entire families. They know best the barriers before them, and what will or won't help them over those hurdles.
The fruits of this approach were seen vividly at a recent John T. Gorman Foundation board meeting at BangorHousing. At that meeting, Foundation staff and board members met with parents going through BangorHousing's Families Forward program (please read more about it here). Participants spoke volumes about the ways this effort has strengthened their families and advanced their prospects—a testament to the wonderful staff at BangorHousing and a great affirmation of the evidence-based two-generation model the Foundation supports.
Their stories were inspirational as well as informational. Amid challenging circumstances, these parents are working hard to advance their education and careers while ensuring their children can also succeed. It's incredible to see what they have accomplished with the right support.
I hope you find their stories as inspirational as we did. Thanks for reading and have a wonderful summer.
Sincerely,
Tony Cipollone
President & CEO
John T. Gorman Foundation