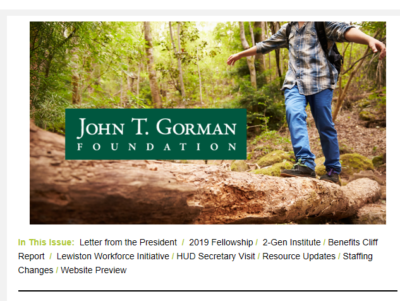 [Read the full newsletter here]
I don't remember the last time I had listened to the radio so intently.
Through the speakers in my car last week came the voice of Mikayla, a young woman living in the youth shelter at New Beginnings in Lewiston. Since her father passed away, she has dealt with challenges well beyond her 18 years. She has tried unsuccessfully to find a home among family members, dropped out of community college because she couldn't afford books, and spent many days sitting in 24-hour restaurants and many nights sleeping in her friend's hallway.
But her hopes remain intact. With the counseling and safe shelter she's received at New Beginnings, she wants to give college another try in the fall.
Maine Public aired Mikayla's story—and several others among the estimated 2,500 homeless or displaced youth in Maine—in a series on youth homelessness called "Finding a Way." Funded by a John T. Gorman Foundation grant, these five stories and a Maine Calling episode have explored the successes and challenges of addressing youth homelessness in Maine.
We think it's important to put a face, and a voice, to this critical issue. Too few know about the instability, trauma, and tragedies that lead to these kids becoming homeless, nor the challenges entailed in being a homeless teen. Growing up and getting through school is difficult enough without having to figure out whose couch to sleep on or how to get enough food every day. The ability of these kids to survive amid these trials is a testament to their perseverance and potential.
Thankfully, many individuals in our community remain committed to unlocking that potential, even in the face of tight resources and rising need. Maine Public shined a light on how schools and local organizations are changing traditional models to better support these kids, meet rural youth where they are, and help homeless students succeed in school and beyond.
The Foundation is proud to work alongside these organizations to advance their goals—by investing in programs, building the capacity of local leaders through our Fellowship, and informing policy decisions through instruments like the brief we published last year on helping vulnerable Maine youth succeed.
The Foundation's multi-pronged approach to its work is on full display in our latest newsletter, whether we're talking about our place-based initiatives in Lewiston, two-generation approaches to breaking the cycle of poverty, or the 2019 John T. Gorman Fellows. We hope you give these articles a read—and, to the "Finding a Way" series, a listen.
Thanks for tuning in,
Tony Cipollone, President & CEO