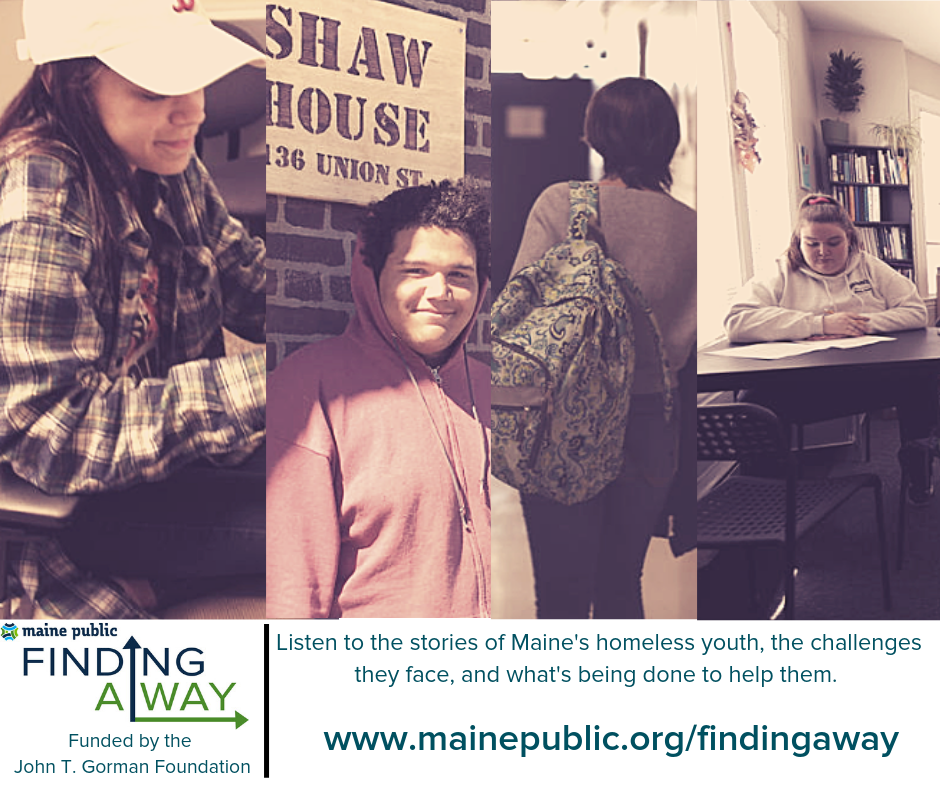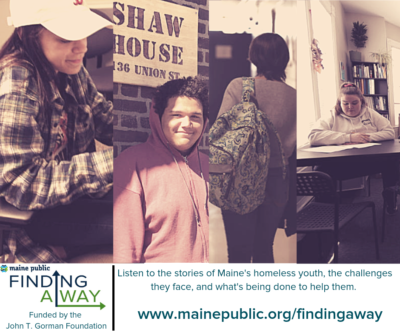 As part of a Foundation grant to support reporting on older youth issue, Maine Public has produced and aired a weeklong series on youth homelessness. The five stories below, along with two Maine Callings, do a great job capturing the hard realities homeless youth face, the way Maine communities are working to help them, and the challenges that are still present. Thanks for tuning in.
All "Finding a Way" series content funded under the John T. Gorman Foundation grant are listed here.
Youth Homelessness Stories
'Finding A Way' Series Investigates Supports For Maine's Homeless Students
The rising incidence of youth homelessness can stay hidden in a rural state like Maine, yet just two years ago, more than 2,500 public school students in the state were reported as homeless or displaced — a significant increase from the numbers seen just two years prior.
Maine School Districts Under Pressure Amid Spike In Homeless Youth
Maine is seeing a growing number of young people, from preschool through 12th grade, who are homeless or displaced. They are moving into shelters, couch surfing with other families and, in rare cases, camping or living in cars. According to the National Center for Homeless Education the number of homeless youth increased by 30 percent in just two years.
What Maine Schools Are Doing To Help Homeless Children Facing Adult Problems
In many rural towns across Maine, schools are on the front lines of the effort to identify students who are homeless or displaced, and to help them with basic needs like clothing, food and health care.
'They Make It Fun' — Biddeford Program Helps Students Find Success, In And Out Of Classroom
The challenges of poverty and homelessness affect thousands of young people across Maine and create barriers that extend far beyond school walls. But some districts are trying approaches aimed at keeping those kids engaged in learning by also helping them with basic needs. A new program that takes such an approach in York County is showing early signs of success.
Seeking Support, Homeless Maine Teens Are Often Forced To Leave Their Communities
Recent financial trends have not been kind to some organizations serving homeless youth, especially those in rural Maine. Programs and youth shelters in Rockland, Skowhegan and Rumford have all closed over the last dozen years. With fewer resources, teens in rural areas have had to face a tough choice: stay within the community they know or move to an unfamiliar city that might offer more support.
Maine Callings
Youth Homelessness: How Do Young People Cope With Homelessness in Maine?
Homelessness among young people is on the rise in Maine. In conjunction with the series that Maine Public reporter Robbie Feinberg is doing on this issue, we examine the issue of youth homelessness in Maine, how big of a problem it is, and what's being done to address it.
Panelists:
Chris Bicknell, executive director, New Beginnings (and 2019 John T. Gorman Fellow)
Daniella Cameron, senior director of teen and anti-trafficking services, Preble Street
Sean Scovil, clinical director, Community Care
Gayle Erdheim, Maine Department of Education
Anxiety in Young People: Why Does Maine Lead the Nation in Anxiety Among Kids and What Can Be Done?
The latest Kids Count Data Book reports that Maine children have the highest rate of diagnosed anxiety in the country, as well as high rates of depression and suicide. We learn what causes, signs and treatments are for anxiety in young people, as well as resources available to children and families.
Panelists:
Mae L'Heureux, NAMI Maine youth program manager
Dr. Deb Hagler, Brunswick pediatrician; VP, American Academy of Pediatrics Maine chapter
Scott Hayward, state executive director, Pathways of Maine
Olivia McCormack (by phone), sophomore, American University; she has dealt with significant anxiety since she was younger
Chloe Beattie (by phone), freshman, University of Southern Maine; she identifies as experiencing high levels of anxiety that has at times been debilitating