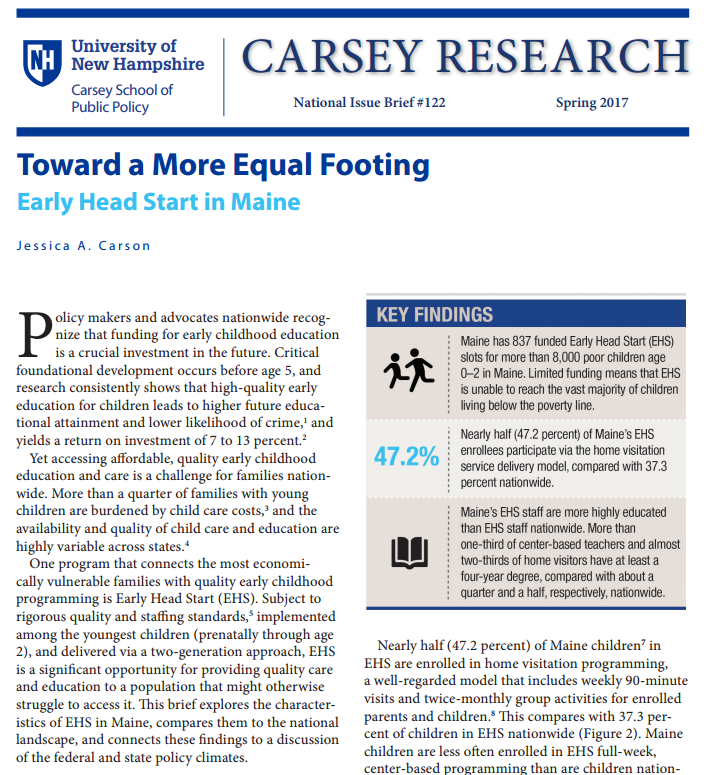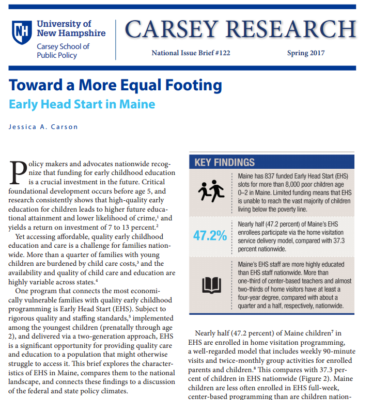 Researchers have consistently made the case that investing in our youngest kids' educational enrichment pays off down the line, finding anywhere from a 7-to-1 to a 13-to-1 return on initial investment. Head Start, the federally funded early education program that's celebrating its 52nd year, is widely recognized as an effective vehicle for this kind of investment through high-quality learning experiences for young children who are economically disadvantaged. Early Head Start is the component of the program designed for younger children under three and their families.
A new brief from the Carsey School of Public Policy of the University of New Hampshire, which was commissioned by the John T. Gorman Foundation, looks at Early Head Start (EHS) programming in Maine and finds some bright spots, as well as some areas that might benefit from improvement. Unlike "traditional" Head Start, which is primarily delivered through classroom services to children ages 4 and 5, Early Head Start includes both center-based and home-based services for children birth to three years. The home visiting component, which is made up of weekly appointments and group activities twice a month, also includes prenatal education. This helps make sure children get a great start and that their parents receive access to helpful resources as early as possible.
Maine has a higher proportion of families receiving this home-based model of care, the Carsey brief finds— as nearly half of Maine children are in the home visitation version of EHS, compared to about 37% of children nationwide. Since the home visitation component of EHS has been demonstrated to be particularly effective, that's an aspect of our state program that's especially strong. "Home visiting is one of the ways that we can reach both young children and their families to help make sure they are thriving, and EHS does that really well in Maine," explains Jennifer Beck, Program Associate at the Foundation. Additionally, EHS staff in Maine tend to be highly educated, which can lead to better outcomes for the children they serve.
However, like EHS programs all over the country, the demand for the service in the state is not being met by the current capacity. The brief notes that although there are 8,000 children who meet eligibility requirements in the state, there are only 837 slots available. Many of the families who the program serves are working or in school, so the high-quality child care offered by EHS also helps to make sure that parents can continue to find a pathway to greater economic security. Expanding EHS would help make sure that many more children in Maine—and their families—are on the road to a better life.