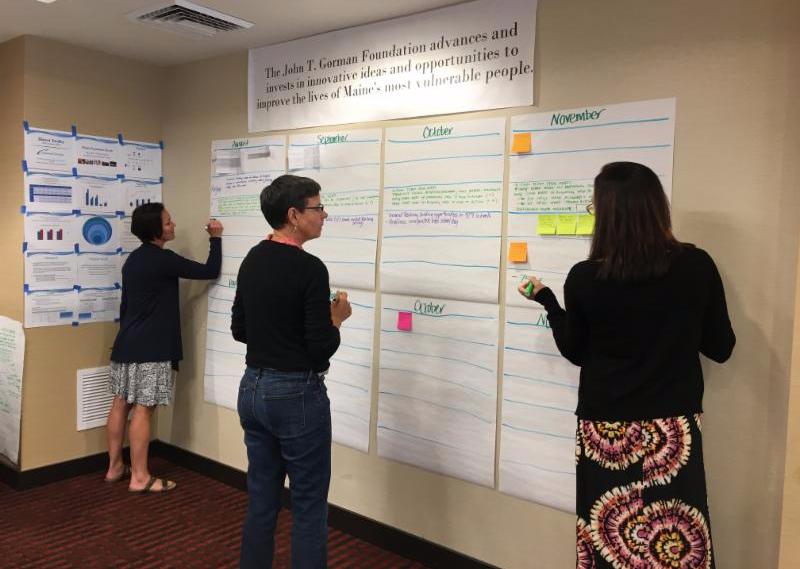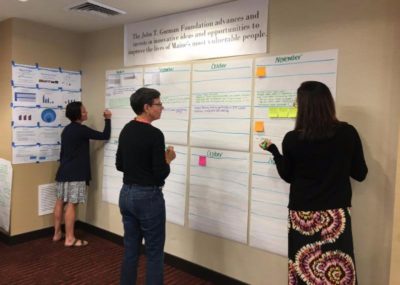 The 12 fellows in the second cohort of the John T. Gorman Fellowship are now just over the halfway point of their work together. The biannual Fellowship, which the Foundation launched in 2015, is designed to help these nonprofit and public sector leaders from across the state become more results-focused and build the vision, confidence and competence required to advance change and improve the lives of vulnerable people throughout the state. To learn more about the background and current roles of the Fellows in this cohort, as well as those in the inaugural Fellowship, please visit the Fellowship section of our website.
At the core of the Fellowship's curriculum are six two-day seminars, which are based upon a framework that emphasizes the use of data to identify and improve results for people in Maine. Four of these sessions have now been held, on topics that range from working collaboratively to develop aligned strategies to using communications as a vehicle to advance shared results. In addition, Fellowship seminars are designed to expose participants to national and local experts who are engaged in innovative work. Outside of the Fellowship's seminars, participants in the program must stay on track with their goal of making a measurable difference in the lives of Maine people. They accomplish this through a combination of group meetings, consultations with Foundation staff and Fellowship faculty, and their application of new concepts and skills learned in the seminars. . The Fellows are also tasked with leading their home organizations through the process of becoming more results-based in their orientation and mission.
The energy and commitment that the Fellows have brought to the table has been impressive. "We know that this isn't easy work—it requires serious dedication and a considerable amount of time," says Tony Cipollone, President and CEO of the John T. Gorman Foundation. "But we believe that the payoff is worth it for the potential impact that these leaders can have on Maine's future."
The Fellows themselves also report having gained a number of skills from the program, from improved agility with data to a new vocabulary that helps them articulate a results-based approach. "I have found myself exploring disparities, re-thinking strategies, and creating valuable new partnerships over the past several months," says current Fellow Cat Hamel, Executive Director of the Boys & Girls Club of Bangor. "The opportunity to learn amongst a cohort of peers has helped me realize the significant role we each have in making a measurable difference for the people of Maine."
Though the last of the Fellowship seminars is planned for November, that's not the true end of the Fellows' work. The cohort has committed to the goal of making a measurable improvement in the lives of the people they serve by September 2018—and to keep that effort moving forward into the foreseeable future. We'll continue to keep you updated on their progress, and expect to report great things.