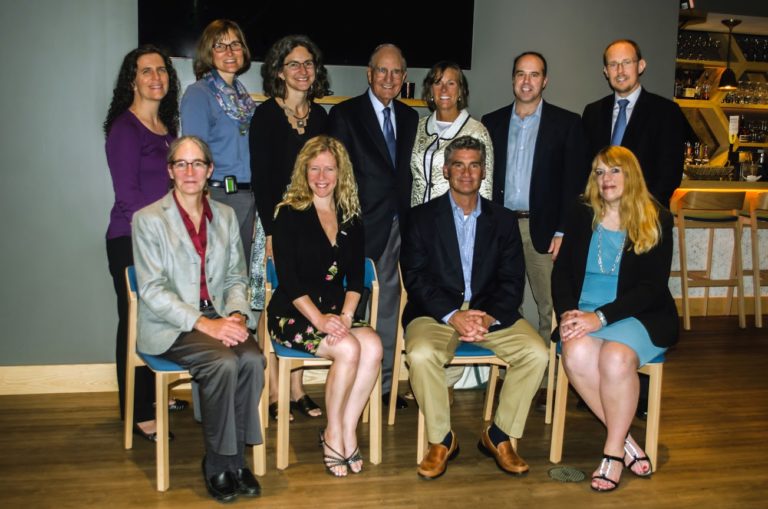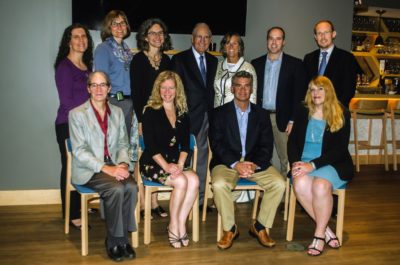 Senator George Mitchell is one of the most respected political figures in Maine — and the nation. In a recent speech given to the inaugural class of the John T. Gorman Foundation Fellowship, Sen. Mitchell continued to inspire others to join his lifelong effort to improve the lives of all Mainers. Sen. Mitchell met with a group including the Fellows, their colleagues, Foundation board members and staff.
Drawing from his varied and rich experiences as U.S. Senate Majority Leader, a distinguished international envoy and a business leader, Sen. Mitchell shared lessons he's learned over the years about successfully negotiating – and resolving – complex conflicts.
"It's critical in negotiation to have the willingness and tenacity to listen," Sen. Mitchell told the audience. "If you listen long enough and hard enough, you hear and find things of consensus. Patience is critical. Leaving your own ego at the door is critical."
Sen. Mitchell also spoke eloquently about persistent inequality in his home state, observing that "a young boy today in a small town in Maine from a poor background has less of a chance than I did."
He urged all in attendance to change this reality and continue to provide disadvantaged people in Maine with opportunities to succeed.
The Fellows were moved by the Senator's remarks, and easily found connections between his talk and the work that they have been doing in the program since its launch this past spring.
Fellow Colin O'Neill, Associate Commissioner of the Maine Department of Corrections, said that after eight months of training in Results Based Leadership – the framework upon which the Fellowship's curriculum is based – he could think of no one who personified its concepts more than Sen. Mitchell.
"His passion to make this country and the world a better place is still burning and truly inspiring," O'Neill added.
Fellow Kara Hay, the Chief Executive Officer of Penquis Community Action Program, also felt fortunate to hear Sen. Mitchell speak about the skills he employed to bring about results.
"I especially appreciated his emphasis on the importance of active listening," she said. "I know that I will carry this message with me as I continue in my leadership role."
Sen. Mitchell talked fondly of his friend and college classmate Leon Gorman, who passed away only a few weeks before the event. A noted philanthropist in his own right, Leon Gorman was the brother of John T. (Tom) Gorman, the Foundation's founder and namesake, who passed away in 2010. The generosity, compassion and selflessness of both brothers were remembered by those in attendance.