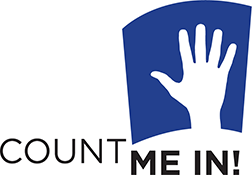 Did you know that missing two school days per month over the course of a school year can have a significant impact on students' ability to succeed in school? Even excused absences due to illness, bad weather or transportation challenges can make it tough for children to hit educational milestones, such as reading proficiently by the end of the third grade or graduating from high school.
Research has also shown that the most vulnerable children in the community are most likely to miss school most frequently. For these reasons, the John T. Gorman Foundation invests in Count ME In, an effort to reduce chronic absence among Maine schoolchildren.
"We're committed to this work, not only because research shows that consistent attendance is critical for children's long-term educational success, but also because chronic absence in a student can be an indicator that the whole family is struggling," said Carter Friend, Senior Program Associate at the Foundation.
Ensuring that all Maine children get to school every day requires a team effort. Count ME In is a statewide partnership of schools, youth, families and community organizations that advances a data-driven approach to reducing chronic absence.  The partnership is currently in its third year of a five-year pilot program, which is supported from the John T. Gorman Foundation and which works directly with school districts throughout the state.
Eleven school districts are on board for the 2015-16 school year, and have made real inroads towards progress. Preliminary data suggests that participating districts have shown a statistically significant reduction in chronic absenteeism thanks to the implementation of Count ME In's attendance policies and practices.
Ocean Avenue Elementary School in Portland began partnering with Count ME In last year, and principal Beverly Coursey says that the resources have been a great support to their work. Family engagement is a critical component of the school's approach.  "In addition to tracking each student's attendance, our teachers are reaching out to families to let them know we want [the students] back at school," she said.  "That way they know that they are missed –and are missing important lessons."
These and other strategies were shared on October 29th at the annual Count ME In Summit in Freeport, where more than 150 educators and child advocates gathered to learn about best practices in encouraging attendance. A highlight of the summit was a keynote speech by Hedy Chang, Director of Attendance Works, a national nonprofit that works to raise awareness about the adverse effects of chronic absence. Chang's talk focused on the importance of supporting the whole family when encouraging attendance –a theme that was echoed in presentations throughout the conference. Consistent school attendance is only possible, Chang said, "when families have hope for a better future, faith that school will help their children succeed, and capacity—the resources, skills, and knowledge needed to get to school."  Strengthening these three factors for all Maine families is at the heart of Count ME In's work.